Cheating may be a joke but NORMAN GILLER does not see the funny side
Heard the latest joke going the rounds (I've just made it up): Ashley Young is being invited to partner Tom Daley in the Olympic synchro diving championships in Stratford this summer.
It's no laughing matter when cheats can prosper at football's highest-profile table. What sort of message is it sending to the thousands of youngsters starting out in the game? They will be encouraged to impersonate Young's theatrical diving that has earned Manchester United two penalties in vital back-to-back home Premier League games.
When you get a senior statesman like Sir Alex Ferguson publicly admitting that Young "played for the penalty" alarm bells should be ringing that something is rotten in the state of our soccer.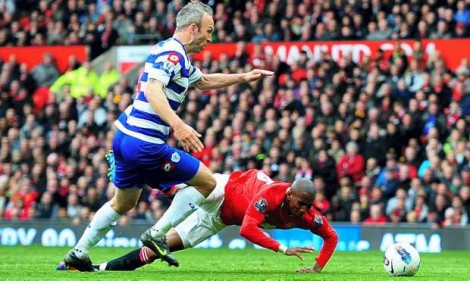 We are back to the bad old days when Ruud Van Nistelrooy used to belly flop in the penalty area at the hint of a tackle, scarring and shaming some magnificent performances in a Man U shirt.
Here's an idea that I would like to plant in the minds of my old football-writing colleagues, who can influence the thinking of the game's rulers:
Change the law so that a penalty is awarded only if an obvious scoring opportunity is denied. If the incident does not prevent a goal-scoring chance, award a free-kick five yards outside the penalty area.
This will encourage the cheats to stay on their feet and go for goal rather than take premeditated dives.
I watched the latest Young theatrics against Aston Villa on a giant screen at Wembley while waiting for the kick-off to the Chelsea v Spurs FA Cup semi-final. It was obvious that this was a cynical act but referee Mark Halsey fell for it hook, line and stinker and awarded United their ninth home penalty of the season.
Little did I know that shortly after I would see a much worse refereeing decision when Chelsea were awarded a goal that wasn't against Spurs. The Tottenham goal was more barricaded than the Alamo when referee Martin Atkinson decided that the ball had crossed the line, gifting Chelsea a 2-0 lead.
As somebody with undisguised Spurs leanings, I reach down into my charitable side and say that Chelsea thoroughly deserved their victory (even though 5-1 was hugely flattering). But that appalling decision by Atkinson was a game changer, and underlined yet again the urgent case for goal-line technology.
On all my many previous visits to Wembley, the old and the new, I have been pampered and spoilt by the press box facilities. This time I was with the hoi polloi, and finished the day totally disillusioned – not with the Beautiful Game but with the Ugly People it attracts.
Those Chelsea fans – a small, moronic minority – who were chanting "murderers" during the attempted silence in memory of the Hillsborough victims should be banned from any football ground. Doubtless they were the same vermin who were making sick anti-Semitic comments.
It would not enter their wooden heads that their club has been transformed by the money poured into it by a Russian Jew, and that several of their key players are black.
My unsettling experience at Wembley shows the erosion of decent, responsible behaviour, and I dread to think of what is going to happen when the Liverpool and Chelsea fans come face to face next month.
If you look in the Liverpool forums online you will see they are spitting blood over the unacceptable behaviour of those Chelsea ignoramuses. If I was an editor, I would be briefing news reporters to travel with the fans to Wembley for the FA Cup final. You do not have to be Mystic Meg to forecast trouble.
It further depressed me to see Spurs and Chelsea fans legless before a ball was kicked. I can truthfully say that in 1967 I did not see a single drunk before or after the Spurs/Chelsea FA Cup final.
This has been my birthday week and as I burrow deeper into my 70s I realise I have actually morphed into Victor Meldrew.
But the Beautiful Game really has started to develop an ugly side, and the authorities must work harder at kicking out the sort of racism that was poisoning the game back in the 1970s.
There must be zero tolerance.
I DO NOT USUALLY feel exhausted at the end of reading the peerless Patrick Collins, but his fascinating interview with Olympic leader Lord Coe here on the SJA website had me reaching for my recently prescribed beta blockers.
Those of us who know perfectionist Seb well will confirm that he has always worked harder than anybody else at being the best at whatever he does.
In the "Who's the Greatest British Olympian?" arguments, I always come down on his side ahead of Steve Redgrave and Daley Thompson. How many people attempt a decathlon? How many get to row a boat at competitive level? But thousands of people run the equivalent of the metric mile, and Seb gloriously won back-to-back Olympic gold medals in the 1,500 metres Blue Riband of the track.
The workload he has taken on as London Olympic chief is mind-blowing, and I have my fingers and toes crossed that nothing from left field wrecks his brilliantly fathomed plans.
If it all comes together perfectly as Seb envisions, then the country must find a way of rewarding him. He already has a Lordship, so the only thing fitting would be a statue.
Where better than right in the heart of the Olympic village in Stratford, the home that Seb built?
---
UPCOMING SJA EVENTS
Thu May 10: SJA Ladbrokes Lunch with former England cricket captain Alec Stewart. Click here for booking details.