Ahead of the first Test match of the summer, former England cricket captain Alec Stewart is our guest of honour at the SJA Ladbrokes Lunch in central London on Thursday, May 10.
SJA Ladbrokes Lunches are open to all, non-members and SJA members alike, but there is a strict limit on numbers, and places will be allocated on a first-come, first-accepted basis, with members being given priority.
And for this SJA Ladbrokes Lunch, the two-course lunch for members will cost just £10 (plus VAT).
For non-members of the SJA, the lunch is £20 (plus VAT).
In a 22-year career with Surrey and England, Alec Stewart became the most capped England cricketer of all-time, playing in 133 Tests. He also played in 170 one-day internationals.
He is now a widely respected pundit, broadcasting on radio and television as well as having a regular newspaper column.
Ahead of a summer in which the West Indies, South Africa and Australia will all be playing in England, Stewart is bound to offer some story-making lines on his successor as England skipper, Andrew Strauss, and the national side's winter tours.
Our usual lunch protocols will apply – after a two-course lunch at the Olde Cock Tavern on Fleet Street, Stewart will answer questions on an on-the-record basis (unless our guest specifically asks to go off-the-record on any point, in which case we expect that request to be honoured).
This SJA lunch, generously sponsored by Ladbrokes, represents an outstanding opportunity for feature writers, chief sports writers and correspondents from regional as well as national newspapers and broadcasters for some headline-grabbing copy.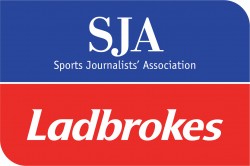 Payment for the lunch needs to be made by cheque (payable to "SJA"), and needs to be made in advance of the lunch. Anyone requiring a VAT invoice needs to advise us, and they will be sent such by the Treasurer.
Rights-free images from the event will be made available on request.
All attendees are also expected to ensure that they make mention of Ladbrokes and the Sports Journalists' Association event in their published or broadcast reports.
---
HOW TO BOOK
The SJA lunch will take place in a private room at the Olde Cock Tavern on Fleet Street, EC4Y 1AA, directly opposite the Royal Courts of Justice. The venue is served by several rail and Tube stations, include Charing Cross, Embankment, Temple and City Thameslink.
Lunch will start from 12.30pm.
Places are expected to be in great demand and will be allocated on a first-come, first-reserved basis, with preference given to SJA members.
The cost is £10 (including VAT) for fully paid-up SJA members, and £20 (including VAT) for non-members, to include a two-course meal and coffee. Guests are expected to buy their own drinks.
Contact Steven Downes by email to stevenwdownes@btinternet.com (please indicate whether a vegetarian meal is required or if you have other special dietary requirements; these have to be ordered in advance), and write "Alec Stewart lunch" in the subject field of your email.
All details are subject to change.
First posted April 10.
---
UPCOMING SJA EVENTS
Mon Apr 16: SJA Spring Golf Day, Surbiton GC. Click here for booking details.

Thu Apr 19: SJA Annual General Meeting, Fleet Street, 12.30pm. Click here for details.

Mon Sep 24: SJA Autumn Golf Day, Muswell Hill GC. Booking details from Paul Trow at ptrow76780@aol.com