A week before Europe defends the Ryder Cup, three-time captain Bernard Gallacher will be the SJA's guest at our latest Ladbrokes Lunch in central London on Tuesday, September 18.
SJA Ladbrokes Lunches are open to all working media, non-members as well as members, though there is a strict limit on numbers we can accommodate, and priority is always given to SJA members and those first to book.
Attendance at this two-course lunch at the Olde Cock Tavern in Fleet Street costs £12 (including VAT) for SJA members, and £20 (including VAT) for non-members.
Bernard Gallacher has had a lifetime's involvement with the Ryder Cup, making his debut as a player in 1969 when aged just 20, then the youngest player to represent Great Britain & Ireland up to that time.
Gallacher played in the Ryder Cup eight times and was captain of the European team in 1991, 1993 and 1995. All three of those matches were very close; Europe lost the first two but had a stunning victory in the third match under Gallacher's captaincy.As well as an impressive 10 wins on the European Tour, Gallacher was also the professional at Wentworth for 25 years, and these days is a regular broadcaster, often to be heard on BBC Radio.
For this lunch, the usual SJA lunch protocols will apply – after we have enjoyed two-course lunch at the Olde Cock Tavern on Fleet Street, our guest will answer questions on an on-the-record basis (unless he specifically asks to go off-the-record on any point, in which case we expect that request to be honoured).
This SJA lunch, generously sponsored by Ladbrokes, represents an outstanding opportunity for feature writers, chief sports writers and correspondents from regional as well as national newspapers and broadcasters for some headline-grabbing copy.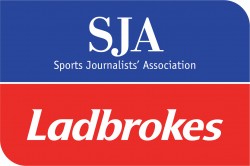 Payment needs to be made by cheque (payable to "SJA"), and needs to be made in advance of the lunch. Anyone requiring a VAT invoice needs to advise us, and they will be sent such by the Treasurer.
Rights-free images from the event will be made available on request.
All attendees are also expected to ensure that they make mention of Ladbrokes and the Sports Journalists' Association event in their published or broadcast reports.
---
HOW TO BOOK
The SJA lunch will take place in a private room at the Olde Cock Tavern on Fleet Street, EC4Y 1AA, directly opposite the Royal Courts of Justice. The venue is served by several rail and Tube stations, include Charing Cross, Embankment, Temple and City Thameslink.
Lunch will start from 12.30pm.
Places are expected to be in great demand and will be allocated on a first-come, first-reserved basis, with preference given to SJA members.
The cost is £12 (including VAT) for fully paid-up SJA members, and £20 (including VAT) for non-members, to include a two-course meal and coffee. Guests are expected to buy their own drinks.
Contact Steven Downes by email to stevenWdownes@btinternet.com (please indicate whether a vegetarian meal is required or if you have other special dietary requirements; these have to be ordered in advance), and write "Bernard Gallacher lunch" in the subject field of your email.
Payment, with cheques payable to the SJA, may be made on the day, or can be sent to the Treasurer, Randall Northam, 1 Evelyn Court, Malvern Road, Cheltenham, GL50 2JR.
Payment may be expected from anyone who books a place at this lunch but does not attend.
All details are subject to change.
First posted September 4.
---
UPCOMING SJA EVENTS
Mon Sep 24: SJA Autumn Golf Day, Muswell Hill GC. Click here for booking details
Thu Dec 6: 2012 SJA British Sports Awards. An Olympic year extravaganza at the Tower of London. Click here for more details, news of members' discounts and a booking form.