That master of the ballpoint, ANTON RIPPON, expresses his concern for modern day sports reporters and photographers who are plagued with poor wifi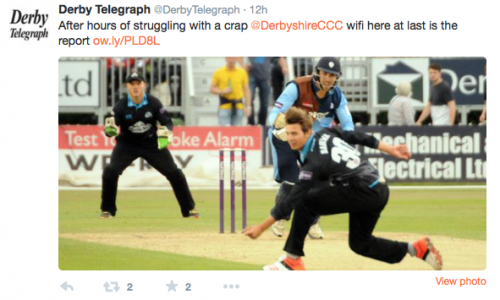 You could almost feel his pain. Derby Telegraph cricket writer Mark Eklid had been wrestling with technology at the 3aaa County Ground in Derby. Finally his copy went through, and then he tweeted: "After hours of struggling with a crap @DerbyshireCCC wifi here at last is the report".
He told sportsjournalists.co.uk: "Wifi is the biggest boon and the biggest frustration of life on the cricket circuit. When it works, you wonder how you ever managed without it – but when it lets you down, as it does with irritating regularity at times when you can least afford to waste time, you pray for a return to copytakers.
"Derbyshire is by no means the only county club that hasn't installed and maintained a reliable system. I don't think we are at the top of the priority list, but perhaps because there are so few of us these days that's not surprising."
I retired from live sports reporting long before the internet had been invented, or at least long before journalists were expected to use it. Which was perhaps just as well because the last piece of technology that I mastered successfully was the ballpoint pen. So Eklid's anguish at battling with a dodgy wifi signal got me wondering: just how convenient is the 21st century way of doing things compared to the old-fashioned way when, in order to file a match report, you first had to scrounge a telephone in an unfamiliar press box or find a call box that hadn't been vandalised?
I am an analogue soul in a digital world. My case for this is simple – Marks and Spencer couldn't sell me a shirt because "it won't go through the till". Both the sales assistant and me knew how much it cost, and I had the correct money in cash, but the till refused to recognise the bar code. So no sale, although when I explained that, if it would help, I was paying with coin of the realm, the assistant said that she didn't think they accepted that anyway. That's what you get for trying to be poetic.
None of which has anything to do with sports reporting but it is an extension of the same problem – that when technology fails us today, then there is often no other way to go.
Our business was also far more satisfying when you had to ask for a reverse charge call to the office and then say: "Copy, please." You felt fully involved in the action, a link in the chain of producing that day's newspaper. You could also be sure that the job had been delivered. I'm always nervous about simply pressing the "send" button and hoping for the best.
How things have changed. Thirty years ago the Sunday Telegraph was still ordering match reports from freelancers by sending them postcards, a bit like those "you have been selected to play" cards that used to drop through the letterboxes of Sunday League footballers, telling them to "meet bus station 1.30pm". Now, I suppose, they just email them.
Are we any better off for having all this technology literally at our fingertips? When it works, undoubtedly. But when it doesn't, then journalists like Mark Eklid are left wishing that they could just pick up a telephone, dictate their copy, and go home.
But it isn't just sports journalists who would like better wifi connections in stadiums. London-based Future Foundation, a global consumer trends and insight consultancy, published a report that says that spectators are also frustrated with poor quality wifi and phone reception preventing them from communicating with friends and family, either directly or through social media, when attending stadium events.
The report says that with spectators being heavy users of smartphones, there is a strong business case for installing wifi and phone signal boosters in stadiums. There is a growing view among fans that the best seats are the ones with the best wifi connections.
Indeed, the benefits seem far-reaching. At the four-year-old VIDA Arena, a multi-purpose indoor arena in Växjö, Sweden, a "silent order system" allows fans to order and pay for food and drink at their seats via an app on their smartphones, significantly reducing waiting times at the collection points and allowing more product to be sold, faster.
In America, the Levi's Stadium, the home of the NFL's San Francisco 49ers which opened in July last year, is, it is claimed, "widely recognised as the most connected stadium in the world". It offers high-quality wifi to all 68,500 spectators, while "NiNerds", wearing spectacles and bow ties, walk around offering technical assistance in person to any fan who can't get a signal.
"We can no longer tell the fan: 'Come and be unplugged for six hours'," said the 49ers' chief operating officer, Al Guido.
One assumes that he included sportswriters as well but I can't see that catching-on at the 3aaa County Ground in Derby any time soon.
What have been your good, and bad, wifi experiences when working at sports events? What is the stadium best-served by wifi? And the worst?
The SJA wants to hear from our members – photographers as well as reporters, broadcasters and editors – of their tales of technological triumph and disasters.
Email your comments to stevendownes@sportsjournalists.co.uk, with "Wifi" in the subject field. That's if you can get your wifi to work, of course…
The SJA is the largest member organisation of sports media professionals in the world. Join us: Click here for more details
This year, the SJA's nominated good cause is The Journalists' Charity. To find out more and how you can donate on a one-off or regular basis, go to www.journalistscharity.org.uk
---
UPCOMING SJA EVENTS



Mon Sep 14: SJA Autumn Golf Day, Muswell Hill Golf Club
Tue Oct 6: Entry forms for 2015 SJA British Sports Journalism Awards published
Thu Dec 17: SJA British Sports Awards, sponsored by The National Lottery
2016
Mon Feb 22: SJA British Sports Journalism Awards dinner, sponsored by BT Sport