It might be tough at the top, but it's always been tougher at the bottom. ANTON RIPPON raids his archive to find an interview from more than a quarter of a century ago with Phil Brown, the morning after he'd played in a bottom tier Hartlepool side that lost 4-1 at home in front of barely 800 fans
According
to a footballer who would one day become a Premier League manager, there was no more depressing place in football than the Victoria Ground, West Hartlepool, on the wet, cold morning of May Day Holiday in 1983, when the Premier League wasn't a gleam in anyone's eye, and when the journalist who would become Hartlepool United's most famous supporter was an unknown radio presenter.

That day, Hartlepool were at home to Colchester United in a Fourth Division match vital to the Pool, who were threatened with having to go cap in hand to the League to apply for re-election for the 13th time in their history.
Whether Jeff Stelling was there is not recorded, but if there was a compelling nature to the game, it escaped most locals. Only 804 turned up, the lowest attendance that Hartlepool had ever recorded. After hours of heavy rain, the pitch was in terrible condition and the game would almost certainly have been postponed had the visitors not made the long journey from Essex. In the grim financial restraints of the Fourth Division, however, nothing short of an earthquake would have prevented the match being played. For the record, Hartlepool lost 4-1.
Playing in their defence that day was Phil Brown, 24 later that month and veteran of more than 100 matches in the Football League's bottom tier. Brown was no one's Kevin Keegan or Trevor Brooking, just an honest player who admitted that his biggest game so far had been playing for Hartlepool in front of 16,807 spectators on the night Huddersfield Town clinched promotion from the Fourth Division.
He had been a part-time footballer, following his trade as an electrician in the daytime and training with Hartlepool in the evenings. Eventually, he'd won a full-time contract as Hartlepool enjoyed a decent season, missing out on promotion by only six points in 1980-81. Now, however, he was learning to cope with the fact that not even a thousand people considered his club's fight for survival worth supporting.
We spoke on the morning after the Colchester match. He had allowed himself the luxury of a lie-in at his parents' home in South Shields, where he was living before his wedding six weeks later. He was still hurting from the memory of the previous day.
"It's terrible to play at home these days. There are so few people in the ground, you can hear every insult that's hurled at you. In fact, I reckon I can recognise most of the crowd.

"I wouldn't call them real supporters. They only come to hurl abuse and it gets to the younger players especially. We must be the only team in the Football League who'd rather play away from home. On other grounds you can build a rapport with the opposing fans. At Hartlepool, it's plain bloody murder.

"My one consolation is that I don't live in the town. I don't have to walk about the streets and be recognised."
Brown, who grew up on the same South Shields council estate as the future Derby County and Leeds United striker Bobby Davison, was playing for a team called St Hilda's in the Jarrow and District League when he was spotted by Hartlepool.
He had never seen them play before he signed, and was taken aback by the spartan conditions at the Victoria Ground, where the official entrance was an anonymous door set in a long corrugated iron fence, and the match officials' changing room had the word "Referee" chalked on the door.
Unlike that of the home team, the away team bath accommodated only two players at a time, and Brown admitted that the home dressing room also boasted a gas fire. The players trained by taking traffic cones to a piece of grassland earmarked for a trading estate. Most days, a spiteful wind blew in from the North Sea.
On away trips, there were no posh after-match meals, simply the occasional fish and chip shop proprietor being delighted by the sudden presence of a professional footballer demanding: "Cod and chips 12 times, please."
Recently, there had been a threatened players' strike and Brown, as the club's PFA representative, had been in the thick of it.
"The club owed money on a tax bill and we hadn't been paid for three weeks. I was asked to find out from Gordon Taylor, the PFA secretary, whether we could refuse to train until we were paid.
"He said that, not only could we refuse to train, we could also refuse to play. So we threatened not to play against Halifax unless the money was forthcoming. It got television coverage and the money was found, but I think the chairman thinks I'm a troublemaker.
"I was naive and I should have taken a couple of lads with me to spread the burden. But they elected me to represent them and I never thought the club would see it any other way. Now I've got to see the chairman and I don't know what the future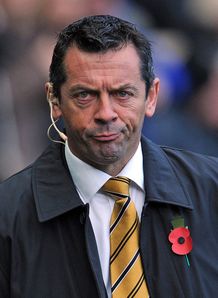 will hold when my contract expires."
Brown said that he had heard Peter Taylor was interested in him and he hoped that perhaps Derby County might take him away from the biting winds and abusive spectators at the Victoria Ground.
Of course, he did eventually did get away, going on to play for Halifax, Bolton and Blackpool, and serving as Sam Allardyce's assistant, and later as caretaker boss, at Bolton. He even made it to Derby, although that took 22 years and it was a job fraught with problems, not least working for a board, some of which are currently breakfasting on porridge, courtesy of Her Majesty.
Then came Hull City and happier times. I wonder, though, if he remembers the day I got him out of bed.
---
Click here for more recent articles on journalism, sport and sports journalism
---
Join the SJA today – click here for details and membership application form
---