After another £400 million spending spree in football, NORMAN GILLER is sending out an SOS
When the Chancellor Gideon Osborne and Business Secretary Invincible, sorry, Vince Cable have finished their best of three falls and sorted out the bankers, I hope they'll turn their attention to football's financial bungle… sorry, jungle.
I cannot be alone in thinking that the £400 million spent in the transfer window was outrageous, bordering on the obscene.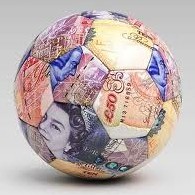 It surprises me that my old newspaper employers go along with the insane spree and the hype without considering the wider picture on behalf of their long-suffering readers.
All the money being spent will eventually come from the pockets of the supporters. Somebody is sure to shout that a lot of it is TV money. But who pays the Sky and ESPN subscriptions?
Ticket prices for the privilege of watching Premier League football are going through the roof, and it amazes this old git (I can't say hack anymore) that people can still afford to go to watch their favourite team.
I live in the past and fondly remember watching the smoothly glorious Push and Run Spurs team for a shilling (5p) in their championship season of 1950-51. The supeme players – Alf Ramsey, Bill Nicholson, Ronnie Burgess, Eddie Baily et al – were on soccer slave wages of £12 a week.
Now we have gone from the sublime to the One Flew Over the Cuckoo's Nest ridiculous.
What concerns me is how many sacrifices are people making to fill the pockets of greedy, disloyal players and their avaricious agents? Are families suffering while their Dads feed their football habit? The £100 a week (ticket, travelling, meals) spent following football clubs means in many cases that savage cuts are being made in household budgets. And all the while the loyal, trapped supporters are clothed in their club's shirt, bought at several hundred per cent mark-up price, and deliberately put out of fashion each season by the clubs and the multi-billion sportswear sponsor with the launch of a must-have new design. Money, money, money makes the ball go round.
If I were younger and had more energy I would be leading a campaign to bring down ticket prices, which would mean footballers having to take wage cuts – hopefully, they could survive the hardship of a mere £75,000 a week. I am not usually a advocate of strike action, but it would teach the clubs a lesson if the fans would get together and withdraw their support for a few weeks. Perhaps there is somebody out there with youth, muscle and intelligence who will lead the fight for sensible entrance fees.  Let me know, and I'll help with the publicity drive.
The people running – perhaps that should be ruining? ­– football can have no conscience. Premier League football clubs are in debt to the tune of more than £3 billion pounds. They are taking in more money than ever before but pouring it into the greedy hands of players, most of whom take it out of the country.
The government inquiry into the running of football and the knotty issue of club debts and regulation appears to have stalled. After this week's lunacy in the transfer market, I hope the investigation, by the Culture, Media and Sport select committee, will get a new kick of life. But somehow, I doubt it.
I AM OBLIGED TO Martin Cloake for triggering my latest assault on the nonsense of football finances with his absorbing survey on the economy of the modern game. Martin is a respected football author – specialising in well-researched Tottenham Hotspur books – and an expert on City finance. Literate and numerate, a rare combination. Wish I could claim just one of them.
His shocking revelations about the finances of the major clubs have been pieced together in consultation with the omniscient Alex Fynn, who has been an investigative wasp in the jam of football for many years.
Among the many points covered is Manchester City's desire – no, determination – to buy success. "We've never," says Alex, "seen a club spend so much, so quickly to such effect."
Great for supporters at Eastlands (or as we must learn to call it, the Etihad Stadium), but I find it distasteful and – here's that word again – obscene.
Fynn, a walking record book on Arsenal, is fascinating on Arsene Wenger: "He is a brilliant manager who has had too much delegated to him. Arsene has been allowed to assume more power than just an employee and the board has taken a back seat." Fynn believes this has meant his mistakes in believing youth without experience can succeed, plus not strengthening his coaching staff, have led to the club's current problems.
On Tottenham, "Redknapp proposes, Levy disposes" is how Fynn describes the relationship. Tottenham's current difficulty, Cloake says, is that it appears the two men can't work out a proper relationship. But, says Fynn, "the buck stops with Levy because he is in charge".
Read the Cloake article, and perhaps you will get angry enough to take action before the football clubs dig so deep into your pocket that you will be making sacrifices that could hurt your loved ones.
Come on Gideon and Invincible, get as tough with the football clubs as you mean to with the bankers. It would be a great vote winner.  And you might rescue a few clubs from the ignominy of bankruptcy.
SOS. Save Our Soccer.
Read Norman Giller's previous columns for the SJA website by clicking here
---
UPCOMING SJA DATES
Mon Sep 12: SJA Autumn Golf Day, Muswell Hill GC. Click here for more details and to book yourself in for the day.
Wed Dec 7: SJA 2011 British Sports Awards – Booking now open. For more details, click here.
All details subject to alteration. Keep checking sportsjournalists.co.uk for updates