The funeral of Bill Colwill, the Sports Journalists' Association's longest-serving treasurer, a recipient of the SJA's highest honour, the Doug Gardner Award, takes place this week. Here, past colleagues and his former sports editor at The Independent offer their tributes and memories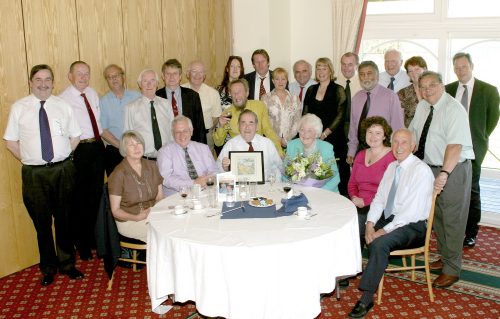 Ian Cole:
Bill Colwill steered the SJA through some stormy waters during his 10 years as Treasurer. Sponsorship was hard to come by and when money finally arrived, he guarded it as fiercely as you would expect from a member of Margaret Thatcher's backroom team.
We needed a strong hand on the tiller – and Bill's was that hand.
That's not to say he was unmovable, or a killjoy. When planning our Sports Awards each year, successive dinner chairmen, with no thought for the cost, would deliver their plan for the grandest of spectacles.
Bill's face would remain expressionless. But, after much persuasion of the undoubted benefits to the event of such a plan, his mood would change and you would hear that soft Devonian burr telling you "Oh, alright then."
Hockey was his main interest, of course. He had been a player at a high level and then an umpire and administrator. After retiring from Whitehall he started filing match reports to, among others, The Independent and The Guardian.
That's how he qualified as a member of the SJA and he also became a leading light in the Hockey Writers' Club.
At club and international matches all over the world, Bill would scribble his reports in long-hand, with his devoted wife Jean acting as copy runner to dictate the words back to London.
Bill was always calm and unflustered and in response to any question you knew there would be a moment's pause while he thought carefully about his reply.
After standing down as Treasurer, Bill continued to work for the SJA as membership secretary, including the distribution of AIPS cards.
Bill never overstated his own importance, but important he certainly was and his contribution during his years on the SJA committee was immense.
Former Daily Mail and Daily Express sports journalist Ian Cole was dinner committee chairman during Bill Colwill's time as Treasurer

Peter Wilson:
When I took over a chairman of the SJA, you could not have hoped for two colleagues more experienced in the workings of the association than the then secretary Trevor Bond and the treasurer Bill Colwill. Trevor would soon be replaced by Steven Downes, but Bill remained throughout my three-year term.
BIll, who would often be accompanied to committee meetings by his beloved Jean, was a steady hand to have at my side. Often I would hear a whisper in my ear that it might be a good idea to let someone else talk. He had one of those authoritative voices that made you listen and more often than not agree with what he had to say.
He had one of those authoritative voices that made you listen and more often than not agree with what he had to say
Despite his mild-mannered way, Bill could also have the occasional strop, no more so than when membership fees, and particularly reduced rates for those working outside London, were under discussion. Bill saw loads of complications with the banking system, as well as the SJA's finances, where others saw a good idea.
I was grateful that when I successfully argued for the association to change its name from the Sports Writers' Association to the Sports Journalists' Association moments after my election as chairman, Bill looked on my impertinence as enthusiasm from the new man. Otherwise I would have been on the end of a big moan about how he had to contact the bank to change the name on the cheque book and all the standing orders, as well as the cost of new business cards and any other SWA literature that had to be rebranded SJA.
Actually, if I remember correctly, I was on the end of that big moan, it just came later than usual.
Sunday Times sports journalist Peter Wilson chaired the SJA from 2003-2006 and edited the SJA Bulletin from 2006-2009 and chaired the judges for the British Sports Journalism Awards for a similar period
Charlie Burgess:
Bill Colwill loved his sport, and that shone through everything that he did for the newspaper.
Bill Colwill loved his sport, and that shone through everything that he did for the newspapeR
When The Independent started, it was great to have a real expert on hockey on the team, something which helped to establish the reputation of our sports pages for their breadth of coverage across all sports.
Bill was a lovely, decent man.
Charlie Burgess was the sports editor at the launch of The Independent in 1986
Sarah Juggins:
My path crossed Bill's only occasionally – as a wet-behind-the-ears SJA Treasurer and as a hockey writer.
Whether it was asking for information about press ops at London 2012, discussing the finer points of hockey rules as implemented by the FIH or dispensing invaluable advice or knowledge as SJA Treasurer, he was always gruffly kind and ever ready to talk.
He was a truly magnificent hockey journalist with an encyclopaedic knowledge of the domestic and international game. He astonished me once by asking me about my playing days at Ipswich – I had no idea his knowledge and interest was vast enough to take in the fortunes of nobodies like me.
Sarah Juggins is the current Treasurer of the SJA
Trevor Bond:
Along with Chris Moore, I persuaded Bill Colwill to come on board the then SWA committee.
I always saw Chris as a future chairman. Sadly that was not to happen. But, through hockey, they were joined at the hip – they came as a partnership, And both established as top journalists with a common interest in hockey – Chris the ideas man, Bill the guy who could make sure the association's accountants did not too lose too much sleep. His claim: Save the pennies and the pounds will look after themselves. He never got it wrong.
Which is why Bill never did forgive me for , as dinner chairman for the 50th anniversary bash at the Hilton Hotel before HRH The Princess Royal, of bankrupting the club by inviting 50 past award winners to the gala dinner.. Great show, great event, Financially a disaster – mea culpa!
He never failed to remind me of it when we met at meetings or socially, which along with Ian Cole we did many times along in hostelries in Essex to which he was always happy to drive to with the lovely Jean, even in her diminishing years. And we talked and we talked and we laughed. I like to think that Ian and I discovered Bill's quiet sense of humour. His face would screw up, break into a grin and he would simply say, "I remember that."
Apart from being profound as a hockey player, umpire and administrator – not least with the Hockey Writers' Club and the AIPS Hockey Commission – he grew up supporting his beloved Middlesex County Cricket Club and never changed his allegiance. Any conversation about comparisons in cricket would inevitably end with: "But did you ever see Compton and Edrich?".
I was the SWA's treasurer for one year – one year too many! Bless you, Bill for showing us all how it should be done. We will all miss you.
Trevor Bond, former sports editor at the Sunday Telegraph and associate sports editor at the Mail on Sunday, chaired the SWA from 1994-1995 and was secretary from 1997-2005
Click here to read the SJA's obituary for Bill Colwill
Bill Colwill's funeral will take place on Wednesday, November 30 at the Chilterns Crematorium, Whielden Lane, Amersham HP7 0ND at 5.15pm.The crematorium is on the north side of Whielden Lane (A404), Amersham HP7 0ND.
The family asks for no flowers, but for donations to the Alzheimer's Society.
After the service, those attending are invited to join Peter and family members at The Plough Inn, The Hill, Winchmore Hill, Amersham HP7 0PA (01495 259757). For the Plough Inn turn right out of the Crematorium and proceed a short distance down the A404 before turning left into Winchmore Hill Village.