ANTON RIPPON, a former sports book publisher, runs the rule over the recently announced long-list for the 2015 Sports Book of the Year Award
Sports book publishing has come a long way since Billy Wright brought out Captain of England back in 1950. Wright's story was typical of its time: a straightforward run-through of his career from the day that Wolves told him he was too small to be a professional footballer to the day a bus conductor, who'd got to the evening paper first, informed him that he was to lead his country.
Of course, Wright's wasn't the first book to be published in the name of a footballer – Eddie Hapgood, Raich Carter, Peter Doherty, Tommy Lawton were among many who had beaten him to it – and it certainly wasn't the last; Wright himself brought out another, One Hundred Caps and All That, this time owning up to the fact that it was written "in conjunction with" Bryon Butler, who was then with the News Chronicle. Since then there have been hundreds of sports biographies, and biographies masquerading as autobiographies, some excellent, many quite bland.
In recent years, the emphasis has changed dramatically. The biographies and ghosted autobiographies are still there, but they are becoming grittier, darker, deeper. There are also now books that explore the corrupt and brutal side of sport – and sport has given authors a rich seam of material to mine.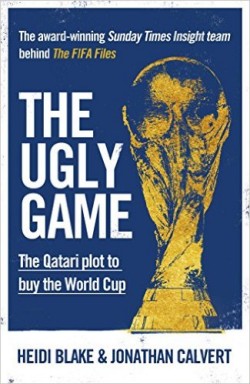 Heidi Blake and Jonathan Calvert's The Ugly Game: The Qatari Plot to Buy the World Cup is the story of how Mohamed bin Hammam abused his enormous wealth to garner support for Qatar's World Cup bid. Based on a huge cache of documents from a FIFA whistleblower which formed the basis of the duo's award-winning journalism for the Sunday Times's Insight team, the book reveals that in the years leading up to the vote bin Hammam paid bribes on an almost industrial scale to football officials round the world. As this week's developments in Zurich have confirmed, it is a story that is still running; even newspapers can't keep up, never mind books.
It wasn't an investigative journalist but an ordinary football fan who wrote Fifty-Six: The Story of the Bradford Fire.
Martin Fletcher was 12 years old in May 1985 when he survived the disaster that killed his father, brother, uncle and grandfather, and which was never properly explained. Fletcher's account of how that dreadful day unfolded makes painful reading; it could have been any of us setting on a family day out to the football.
In adulthood Fletcher took it upon himself to find out more – after all, the inquiry into the death of 56 spectators lasted all of five and a half days and was held with almost indecent haste only three weeks after the event, in an era when the British government showed an indifference bordering on hostility towards football fans.
That Bradford City was strapped for cash and that its chairman, local businessmen Stafford Heginbotham, had been linked to eight other fires in the previous 18 years, resulting in huge insurance claims, was surely worthy of further investigation? Fletcher does not make any direct allegations but he does ask: "Could any man really be as unlucky as Heginbotham had been?"
The Trials of Oscar Pistorius – Chase Your Shadow by John Carlin tells the rise and fall of the "Blade Runner" from sporting icon to accused murderer. Carlin, author of Playing the Enemy: Nelson Mandela and the Game that Made a Nation, the basis for the 2009 film Invictus, enjoyed unique access to Pistorius, as well as to his friends and family.
The book is billed as "one of the most remarkable sports stories ever told", but I'm not sure where we draw the line between a sports story and a tale of human folly.
Donald McRae, already the author of two award-winning books – the 1996 Dark Trade: Lost in Boxing, and 2002's In Black and White: The Untold Story of Joe Louis and Jesse Owens – has come up with another potential winner in A Man's World: The Double Life of Emile Griffith. It explores the boxer's career, the homophobia he faced and his struggle to come to terms with the death of opponent Benny Paret, who had taunted Griffith at the weigh-in of their 1962 world welterweight rematch at Madison Square Garden.
Perhaps the most unusual book on the long list is A King in Hiding: How a Child Refugee Became a World Chess Champion. Forced to flee Bangladesh, eight-year-old chess prodigy Fahim Mohammad arrived in Paris with his father as illegal immigrants.
Fahim was tutored by one of France's top chess coaches, Xavier Parmentier. In 2012, crowned France's under-12 chess champion, Fahim became a national sensation.
There is humour and wisdom in equal measure in this book:
"Tell Fahim the story of Bobby Fischer and the journalist."
"… You'll like this one, Fahim. A journalist was interviewing Bobby Fischer – you know, the world chess champion – and asked him: 'What do you talk about with your opponent?' To which Fischer replied: 'When I arrive I say hello. When I leave I say checkmate'."
Described as "a very modern fairytale" – and who would argue? – A King in Hiding is to be made into a film starring French actor and director Daniel Auteuil.
All the above made the long list for the 27th William Hill Sports Book of the Year Award, which will be whittled down to a short list on October 27. The winner will be announced at BAFTA, in central London, on November 26.
As well as a £27,000 cash prize, the winning author will receive a £2,500 free bet, a leather-bound copy of their book, and a day at the races. The judging panel consists of former chairman of the Professional Footballer's Association, Clarke Carlisle; broadcaster and writer John Inverdale; broadcaster Danny Kelly; award-winning journalist Hugh McIlvanney; and columnist and author, Alyson Rudd. Chairman of the judges is John Gaustad, co-creator of the award and founder of the much-missed Sportspages bookshop.
The longlist in full (alphabetically by author's surname):
The Ugly Game: The Qatari Plot to Buy the World Cup by Heidi Blake and Jonathan Calvert (Simon & Schuster)
Speed Kings by Andy Bull (Bantam Press)
Living on the Volcano: The Secrets of Surviving as a Football Manager by Michael Calvin (Century) (Reviewed here)
The Trials of Oscar Pistorius: Chase Your Shadow by John Carlin (Atlantic Books)
Kings of the Road: A Journey into the Heart of British Cycling by Robert Dineen (Aurum Press)
A King in Hiding: How a Child Refugee Became a World Chess Champion by Fahim, Sophie Le Callennec, Xavier Parmentier and Barbara Mellor (translator) (Icon)
Fifty-Six: The Story of the Bradford Fire by Martin Fletcher (Bloomsbury)
The Game of Our Lives: The Meaning and Making of English Football by David Goldblatt (Viking)
Runner: A Short Story About A Long Run by Lizzy Hawker (Aurum Press)
Fire in Babylon by Simon Lister (Yellow Jersey)
A Man's World: The Double Life of Emile Griffith by Donald McRae (Simon & Schuster)
The Bolt Supremacy by Richard Moore (Yellow Jersey)
My Fight/Your Fight: The Official Ronda Rousey Autobiography by Ronda Rousey and Maria Burns Ortiz (Century )
Journeymen: The Other Side of the Boxing Business by Mark Turley (Pitch)
The SJA is the largest member organisation of sports media professionals in the world. Join us: Click here for more details
This year, the SJA's nominated good cause is The Journalists' Charity. To find out more and how you can donate on a one-off or regular basis, go to www.journalistscharity.org.uk
---
UPCOMING SJA EVENTS
Tue Oct 6: Entry forms for 2015 SJA British Sports Journalism Awards published
Tue Oct 20: Young sports journalists' networking drinks – book your place here
Tue Dec 1: Young sports journalists' networking drinks – Details to be announced
Thu Dec 17: SJA British Sports Awards, sponsored by The National Lottery
2016
Mon Feb 22: SJA British Sports Journalism Awards dinner, sponsored by BT Sport