2009 IN REVIEW: At the year's end, SIMON BARNES, in The Times, presents the sports journalist's reasons to be cheerful
Aren't you fed up with sport by now? The question seems to have been following me around of late.
It's cropped up when I've been trying to save the world and working with people in wildlife and conservation circles, in the other side of my professional life. It's cropped up with intellectuals, who simply don't get the hang of sport. And it's cropped up with people who work in sport, who wonder if the desperate trivialities of football manager insults, the depressing frequency of cheating, the endless succession of scandals and the eternal worship of money don't weary my soul.
I had my first piece on the sports pages of The Times in 1982. Surely the novelty should have worn off. Surely I should have grown up. Surely I should be a crusty old cynic by now. I mean, do I really still like the stuff? Or am I just going through the motions to collect the pay?
As another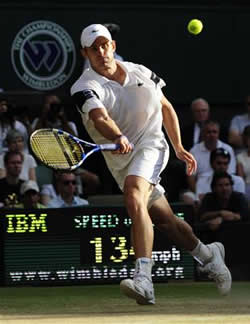 sporting year comes to an end, I look back at 12 months of triviality and skulduggery and I find myself longing for something more important. And I find it in a single instant. I find it in winning. I find it in losing. I find it in drama. I find it in excellence. Above all, I find it in athletes.
Here, then, are ten athletes who helped me to keep the faith.
1 Andy Roddick
There are times when the loser seems to walk away with more dignity than the winner, when mere victory seems rather vulgar in the face of the person who has given everything and lost. So it was at the Wimbledon final, the longest of all time in terms of games played. Roddick played 37 service games without being broken, and that against Roger Federer. In the dementia of the final set, Roddick served to stay in the match on ten occasions. It was the eleventh that broke him. He lost that final set 16-14. His prolonged defiance of the greatest tennis player to hold a racket ended in failure. And it was a great and glorious thing.
2 Stuart Broad
Victory must sometimes be seized rather than coaxed. Sometimes a great moment is not something you wait for, sometimes it must be plucked from the branch. The great deeds of Ashes history were beyond many of those who took part in the enthralling series of 2009; two teams short of greatness. But the awareness of the high stakes could not be ducked. So Broad, who hitherto had seemed such a lightweight, a man content to play the juvenile lead for ever, chose the final Test at the Brit Oval to bowl the decisive spell of the series, tearing out the Australia top order, taking five wickets and settling the matter then and there.
3 Sea The Stars
Racing is a madder sport than most. You can find rumours of the horse of the century a dozen times a week at the magic time of the year, when the two-year-olds take their first mad steps on to the gallops. But here's a strange thing, about racing and about life: every now and then, hope is fulfilled. Sea The Stars won everything and did so without compromise, reeling off the 2,000 Guineas, the Derby and the Arc. In each race he demonstrated the eerie authority that comes from the depths of the stallion heart. He is one of the greatest racehorses that printed his proud hooves in the receiving earth.
4 Jessica Ennis
When Ennis won the heptathlon at the athletics world championships in Berlin, it didn't seem like hope for track and field or hope for sport. It felt more like a beacon of hope for the entire world. Or at least a symbol of so fantastic a thing. Ennis is an athlete of extraordinary talent and it doesn't spoil things that she is modest, charming and beautiful as well. And she won in style, taking hold of the final event, the 800 metres, and fighting off all challengers. She won as a champion should.
5 Jenson Button
The Formula One driver began the season like a man with a private line to God, winning race after race. Then he seemed to become embarrassed by his dominance. He tiptoed towards the line, until it seemed that a prize there for the taking would be lost by his native diffidence. Then came the season's penultimate race, in Brazil, when Button, starting from fourteenth, turned into a ravening monster, went scything through the field, making one spectacular pass after the next, and finished fifth to secure the title that everyone had thought was beyond him.
6 Fabio Capello
Well, I know he's not much of an athlete. But all the same, the conversion of the England football team into an outfit characterised by self-certainty, discipline and casual ruthlessness is something that takes a bit of doing. And now, with England through to the World Cup finals with unprecedented ease, we are coming to a time when jingoistic bluster and gallows humour can be set aside. The best response is in quiet hope.
7 Usain Bolt
No list of anything in sport is complete without Bolt these days. At the athletics world championships he was back in the routine of winning gold medals and setting impossible world records. He turned the second digit of the 100 metres time into a six at the Olympic Games in Beijing last year; in Berlin he did the impossible and reduced it to a five. He knocked 11 spots off his record to win in 9.58sec, leaving cheetahs and pronghorns whimpering in his wake.
8 Kim Clijsters
The Belgian took two years away from tennis to have a child. Then she came back to take up a wild card at the US Open. She had no ranking; she hadn't been competing, after all. But she went right through and won the damn thing. She did so in a manner that contrasted gloriously with the ugliness of Serena Williams's default in the semi-finals. Clijsters is a player of gymnastic commitment and lofty skills who brings joy to every court she plays on.
9 Monty Panesar
That the Ashes should depend on Monty's leave shot. Panesar, one of the worst batsmen to play for England, resisted Australia in the first Test in Cardiff with James Anderson, and did so for more than ten overs. It was a last-wicket stand of unforgettable bloody-mindedness, Panesar untroubled by anything so mundane as his own lack of ability. His reward was to be dropped, as he no doubt knew at the time. All the more credit, then, to this wonderful passage of groping defiance.
10 Beth Tweddle
When the gymnastics World Championships came to London, Tweddle had a great chance of a medal on the asymmetric bars, her speciality. But it all went wrong when she fell in qualification. So she won the floor instead, with a performance of cool and courageous beauty. She showed the precision and self-certainty at the sharp end of a competition that comes from a honed competitive temperament.
Sport is not only about good things, why should it be? Sport is rich, sport contains all manner of moods and emotions. But here are nine wonderful athletes and a half-decent manager, all of whom have filled my year with good things. Fed up with sport? Actually no. A person who is tired of sport is tired of life.
So, what's your sporting highlight of 2009? Post your thoughts in the Comments section below
---
Click here for more recent articles on journalism, sport and sports journalism
---
Your SJA subscription is due from JANUARY 1 – click here for details of how to make your payment
---