After a week when there's been more sports coverage from court rooms and inquiries than sports fields, NORMAN GILLER has a new perspective
There is nothing quite like a heart attack to bring things into perspective. After my little ticker scare, I can see things with sudden clarity and this week the Leveson Inquiry and the Harry Redknapp court case triggered contrasting emotions.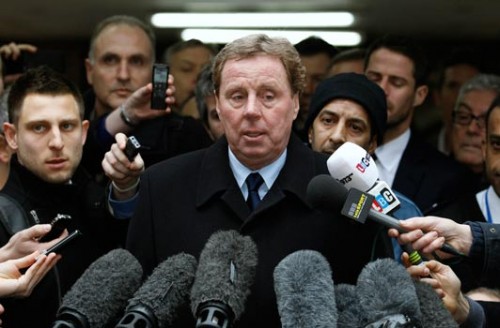 If the Leveson Inquiry was a boxing match, the referee would have stopped it by now with our newspaper game lying battered and bloodied on the canvas.
And Harry's opponents in his court case – HM Revenue and Customs – deserve to be battered and bloodied on the canvas and strangled by their own red tape..
Our profession of journalism has never been so reviled. The queue of literally hacked-off celebrities collecting their pay offs from Wapping this week exposes the Fourth Estate as being in a right old state.
And we have been poorly represented in the witness box at the Leveson Inqury. Our supposed big hitters like Paul Dacre, James Harding and Richard Desmond have come across as dithering and at times even dopey.
The best Dacre could come up with as a proposal to the remarkably patient Lord Leveson is a system of press accreditation cards that will be confiscated at proof of the breaking of journalistic ethics. It is a barmy idea and even this old git can see that it would be unworkable in what is a mushrooming digital world that will be leaving the print word for dead – perhaps even in my life time, a bold thing to say taking into account my recent events.
The reporter's story goes into the newspaper after tinkering from the sub-editor and then the revise sub, and the headline writer gives a completely different interpretation. Who loses his card: the reporter, the sub, the headline writer or the revise sub, or the editor in charge of them all? Back to the drawing board, Mr Dacre.
Lord Leveson must be encouraged to go easy on the regulation when he publishes his observations. It is as simple as having a new-look Press Complaints Committee with real teeth and compulsory membership (Mr Desmond), plus a neutral ombudsman with the power to close newspapers in the most serious cases of unethical journalism.
I think Lord L will be best advised to dodge the digital topic and leave that to a separate study. Controlling the bloggers, the Tweeters and the Facebookers is a minefield far removed from the world of print.
You could see his Lordship's head almost exploding when he tried to take on board the fact that during the SuperBowl there were 12,000 Tweets a second being posted.
Tweets in Britain hit a peak of several hundred a second when the "Harry Redknapp not guilty" verdict was announced. The dear old BBC News Channel managed to get an exclusive, announcing him guilty until a rapid correction. Oops, Auntie's slip showing again.
More than four years ago, Harry told me that the charges were ridiculous and that the tax office was wasting their time and our money.
A little matter of £8 million of tax payers' money later, he has been proved right. Those Tweeters and Facebookers who were finding him guilty from the moment he was charged should be ashamed of themselves. What a pity they don't have cards that can be confiscated.
I still have the scars to show for a run-in with the Taxman during my days as a TV scriptwriter. I produced and scripted a programme called Over the Moon Brian (featuring Brian Moore and Brian Clough), and was paid £54,000 that was meant for the independent production company.
Through a simple clerical error by my accountant, the money – that was only in my account for a week – did not show up in my returns. A sharp-eyed taxman spotted it in my bank statement and the Revenue turned on me with full force.
They sent two heavies down to Dorset to question me as if I was a criminal. They wanted to know why I was always going to Jersey, convinced I was visiting my off-shore money rather than one of my favourite holiday destinations. I had to surrender my passport, and show any cash that I had in my home.
Their investigation lasted two years, during which my wife became ill with a terminal illness that I am convinced was worsened by stress caused by the Revenue's Gestapo-ish approach.
I was finally cleared, but not until after I had paid an accountant £18,000 for a full accounting of every penny I had earned over the previous six years. So I got a taste of what Harry has been through, and I can tell you it is stressful and (pun intended) taxing. It gets to the point where even those close to you wonder if you are telling porkies about your income.
And what do you get from the Taxman? An apology? You must be joking. Not a dickie bird.
Harry deserves compensation, but he should not hold his breath.
It is no coincidence that each of us has recently undergone stent-installing operations.
Believe me, the experience with the Taxman can be heart stopping. It could be almost as stressful as taking over from Fabio Capello as England manager.
---