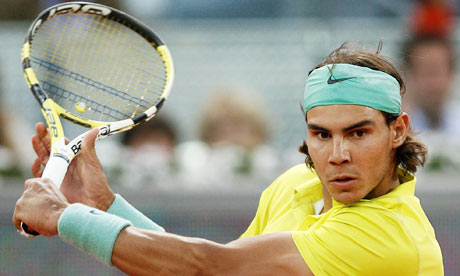 The brow furrows, and the eyebrows, as if tugged by separate strings, rise and fall as though startled by each other. Rafa Nadal, the French Open champion for the past four years and the reigning Wimbledon and Australian Open champion, is contemplating the calendar slam, the true grand slam, something no male player has achieved since Rod Laver's second in 1969.
"It is very special, but it is very difficult. That is the truth. I can't think about that right now. If I have the chance I would love to do it. And if I was in the final in New York, having won the French Open and Wimbledon again, I would think I had that chance. But until then, no."

He smiles, one that has radiated tennis stadiums throughout the world over the last four years. Young girls scream and grab at his hair when he passes; Roger Federer, holder of 13 slam titles, but twice denied the ethereal grand slam by the Spaniard, might be tempted to grab him by the throat. Had Rafa not
emerged from his Majorcan fastness, the boy-man who won the French Open at his first attempt at the age of 19, beating Federer in the semi-final, then the patrician Swiss would surely have laid claim, beyond argument, to being the greatest player ever.
Small wonder emotion welled into tears in Melbourne when, having lost his Wimbledon crown to Nadal last year, he was then beaten by him in February's Australian Open final. And immediately afterwards, the thought occurred, almost sacrilegious so soon after Federer's fall, that it might be Nadal who could win the grand slam — that it might be this ­Spanish force of nature who was destined to become the greater. The hard courts were Federer's last stronghold — he had won eight of his slams on them — and Rafa had stolen this security away from him, just as he had on the All England Club grass.

Read the rest of this profile of Nadal by SJA member Stephen Bierley from yesterday's Observer by clicking here.
---
Click here for more sports journalism links
---
SJA MEMBERS: Make sure your profile details are up to date in the 2010 SJA Yearbook by clicking here
---