Bryan Cowgill, the BBC's first head of sport and the man attributed with devising the slow motion replay for use on Match of the Day, has died, aged 81.
Mr Action Replay was the title of his autobiography published in 2005.
Cowgill was born in May 1927 in Lancashire and educated at Clitheroe Royal Grammar School. He left school at 15 to join the Lancashire Evening Post – where his father was a printer – as a copy boy. The following year, 1943, he joined the Royal Marines, rising to become a Lieutenant in 3rd Royal Marine Commando.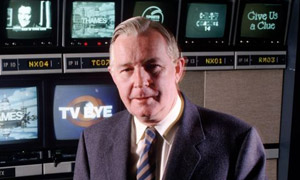 During the Second World War and the two years that followed he saw service in South East Asia.
After the war, he returned to Clitheroe and became a reporter at the paper before moving on to the Clitheroe Advertiser and Times where he spent five years as editor.
He joined the BBC as a production assistant in 1955 and within two years was helping to create and then producing programmes like Sportsview and Grandstand By 1962, aged 35, he had risen to the position of head of sport, where he introduced Match of the Day, Sunday cricket coverage and Sportsnight with Coleman. It was the 1966 World Cup and the introduction of slow-motion repeats that saw him coin the phrase "action replays".
Later, he succeeded Paul Fox as BBC1 controller, and his channel enjoyed a record period of 18 consecutive months with a ratings lead over ITV.
In 1977 Cowgill, overlooked for the director generalship, was promoted to the newly-created job of Director of News and Current Affairs, with a seat on the BBC's board of management and a mission to add analytical depth to news coverage. But before he could take up the post, Thames offered him the job of managing director. Like Fox before him, he succumbed to the lure of a doubled salary – close to £30,000, more than the BBC paid its director-general – and the chance to run his own ship.
One of his earliest coups was to woo Morecambe and Wise away from the BBC. Cowgill's time at Thames was also marked by high-profile drama series, notably Rumpole of the Bailey, Minder and The Bill.
Cowgill's broadcasting career ended after eight years at Thames, though he made a brief comeback as deputy chairman of Mirror Group Newspapers under Robert Maxwell, and was involved with Mark McCormack's International Management Group (with whom he had worked on golf's World Matchplay and Wimbledon tennis when at the BBC) to set up a sports channel. He was also connected with the 1986 Commonwealth Games in Edinburgh.
For the full Telegraph obituary, click here