Ashes to ashes… The second Test dominates this week's sport in quotes, with contributions from Ricky Ponting and Shane Warne (pictured together)
. Plus Marat Safin on the Davis Cup, Sir Alex Ferguson on diving and David Beckham on cooking, while Robin Williams takes the piss out of drug tests
"To be able to walk away from here with a win after the situation at stumps on the second day was a remarkable achievement" – Australian Test captain Ricky Ponting
"One bad decision, the first of the match, against England opener Andrew Strauss, prompted a constriction in team-mates' throats. Quickly, it became outright panic. Like medieval royals with syphilis, they went suddenly mad" – Greg Baum in the Sydney Morning Herald

Mathew Hoggard, on the losing side despite match figures of 8-138:
"I was asked afterwards whether defeat was all the harder for me to accept because of my performance in Australia's first innings, whether it felt like my seven wickets had gone to waste. I can assure you that such a sentiment doesn't even come into it. What really hurts is that all the hard work we had put in as a team over the first four days had gone to waste. That counts for an awful lot more than my individual figures"
"England were mesmerised. In a trance. It was like the bad old days" – former England skipper Nasser Hussain
"The result of this game is going to hurt. I don't want to feel like this again" – Andrew Flintoff, England's captain
"If you can keep your head when all around are losing theirs and blaming it on you, maybe you don't know what the bloody hell is going on. Andrew Flintoff was given a savage and searching test of his leadership at the Adelaide Oval yesterday, and, alas, he failed it" – Simon Barnes in The Times
Martin Johnson in the Daily Telegraph:
"There are two ways to play Warne, and somewhere between their two innings England decided to abandon the Fred Astaire routine which had served them so well for the first two days, and switch to the kind of footwork that would have embarrassed a boxful of battery hens"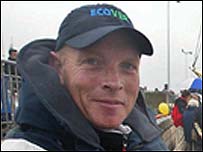 True sporting hero
"I had to go. Because if I hadn't it would have preyed on my mind for the rest of my life. If the boot had been on the other foot he'd have come to get me. No helicopter would have made it in time. He either went heading straight for the icebergs, or I saved him" – round-the-world yachtsman Mike Golding, pictured left, explaining why he abandoned his race while in the lead in order to rescue fellow competitor Alex Thomson
"What I've achieved, with my unbeaten career and long reign as champion, is second to none in British boxing, maybe British sport. And I don't think I've been given enough credit" – super middleweight world champion since 1997, Joe Calzaghe, anticipating losing to a swimming comedian and a golfer who does not want the award at the BBC's sports personality shing-dig on Sunday
"I love cooking now for my family so I'd love it if they bought me some saucepans or a frying pan" – David Beckham sorts out his Christmas list
Must do better (not cricket)
"Everyone needs to get involved in doing a better job. Tennis is not moving in as positive direction as it could" – Tim Henman at Tuesday's Tennis Writers' awards
"One of the jewels of the British sports summer" – Ian White, director of the Stella Artois tournament, defends his event against criticism from LTA chief exec Roger Draper
"We think we can and should be world-class in sports journalism. It's a number of moves on a number of fronts. It ranges from getting the trackside interviews right at athletics to getting the proper questions in our football interviews to having a flagship sports news programme for BBC1 and having a sports editor, to having the journalism on Five Live and the web" – BBC head of sport Roger Mosey, in a wide-ranging interview
"Me and Victoria really like art" – Beckham (again)
So that's alright then
"We feel cheated. It's as simple as that. The lad has got a history of doing it. I don't know what you do about it" —Middlesbrough manager Gareth Southgate makes his views clear on Cristiano Ronaldo's dive to gain Manchester United's penalty
"We don't condone diving we say that before every game and Cristiano is well aware of that" – Manchester United manager Sir Alex Ferguson
"I can be a pig" – Arsenal's Thierry Henry, after reports of a row with his club manager, Arsene Wenger
"It's your throat that's going to be cut if you don't produce results" — West Ham's new chairman Eggert Magnusson. Good luck Alan Pardew
"He's an exceptional horse who jumps brilliantly and has loads of gears. As soon as they set off,
he just switched on and started jumping" —Kauto Star's jockey, Ruby Walsh, after the steeplechaser's latest emphatic win
"I was under pressure and pretty scared. I didn't want to let this cup go away" — Marat Safin, pictured left, after helping Russia to win the Davis Cup by beating Argentina
Reducing drugs to a joke?
"They've kept his urine for a year. It's like a Chardonnay by then" – Robin Williams, on the Parkinson show, talking about drug allegations against his friend, cyclist Lance Armstrong
"The chapter is closed. I am pleased with the decision because it will strengthen our team for the World Cup" – Nasim Ashraf, chairman of the Pakistan Cricket Board, demonstrating the impartiality of the drug testing system in his sport as he announced the lifting of bans on pace bowlers Shoaib Akhtar and Mohammed Asif, who had tested positive for anabolic steroids
"I'm knackered to be honest and my fingers are pretty sore. In this situation I find something inside that keeps me going" – Shane Warne, after his latest Ashes destruction job
"I was very disappointed with the one-year ban that the Australians gave to Warne" – Dick Pound, chairman of the World Anti-Doping Agency, over suggestions that cricket authorities are "soft" on their own players
"The way funding is set up at the elite level is that unless you do well in championships you don't get your next round of funding. That is why you get situations like Dwain Chambers being selected for the Europeans. He wasn't picked with a view to the Olympics – he can't compete in the Games. He was picked because he might have gained some decent results on a punt to unlock some more funding for athletics" – Tim Lawler, chief executive of SportAid, critical of the some of Britain's sports funding distribution
This week's 'They all look the same to me' award
"Ethiopian legend Haile Gebrselassie wins the Fukuoka Marathon in Tokyo" – BBC Sport website, clearly ignorant that Fukuoka is a city of 1.5 million people some 600 miles from Tokyo. The website was corrected the following day – by which time The Guardian had repeated the error