A week in sport and journalism in quotes, compiled by Steven Downes. This week including Chancellor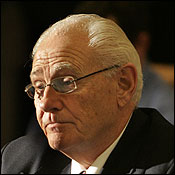 Gordon Brown, All Black Anton Oliver, and the public spats between Mourinho and Rijkaard, Matthew Pinsent and Matthew Syed, and Geoff Boycott and an unnamed "pompous prat"…
"I went there to build things, not to sit and talk about it" – Jack Lemley, right, explains his decision to resign as chairman of the Olympic Development Authority
"I resent the fact that my argument has been misrepresented by a pompous prat who obviously has his own personal issues regarding my cricketing record as it compares to his own public school and club career" – Geoffrey Boycott, in his Telegraph column, gets all defensive (now, that's a change) over reaction to his previous call for England coach Duncan Fletcher to go

"Football no longer needs the written press and whereas the mistrust existed before now, the football industry no longer needs to put up with it, so there is a huge chasm between the two industries" – Harry Harris, of the Daily Express, in an interview with the Press Gazette

Former Sun Editor Kelvin MacKenzie:
Editing a tabloid is not a fox hunt, you know. You don't come in dressed in a pink jacket and a hardhat and start whipping your backside. It is just the commercial imperative. Editing, it's just an office job. You live in a very small world, you don't get out much and all you are doing is flogging yourself to death. So, if somebody comes in and says: "Have you heard!?" you just go for it.
"You might as well ask a collection of mafia mobsters to produce their own in-house publication" – Stephen Glover, in The Independent, on the idea that the Press Gazette could be run as a media trust
"I feel embattled when the Justice Department sends a lawyer after you and tells you they don't want you to publish your story" – Lance Williams, the San Francisco Chronicle journalist and co-author of a major book on the Balco doping scandal, who is facing jail because he has refused to name his sources. For more on this story, click here.
"In the Nou Camp, we know what happens. I know the number of penalties they have at home, I know. I know the number of times they play against ten players" – Jose Mourinho keeps matters nice and civilised before Chelsea's Champions League group match at Barcelona
"It's a poor man's mind in general" – Frank Rijkaard, the Barcelona coach, showing that there's no animosity at all with Mourinho
"I think it is not easy for a referee to be a referee when the players are diving minute after minute. I think Frank Rijkaard is a lucky manager because his Barcelona stars are protected match after match" – Mourinho, after he'd seen his side come from behind twice for a 2-2 draw at the home of the European champions, thanks to goals by Lampard (pictured) and Drogba
"I am not interested in talking about the fouls. I prefer to talk about the extra time that was awarded. That was very positive for Chelsea. That was the referee's decision" – Rijkaard. For the record, Stefano Farina, the referee, issued 10 yellow cards, six of them to Chelsea players
"I have tried to follow Andy Robinson's team selection policy, but I have had to put my hand up and say: 'No, sorry, you've lost me.' I just can't follow it" – former England captain Will Carling
"2012 is a great opportunity for our country; it can make us both a greater sporting nation and a fitter nation" – Gordon Brown, the
Chancellor of the Exchequer
"It is so difficult to smile at seemingly happy children when you see sewage running through people's homes. What can you say when you have sewage running past someone's house, bubbling up, and mothers are sitting on the floor, cooking pig intestines to feed her children?" – Michael Johnson, right, the 400m world record-holder, after a Laureus-organised visit to shanty towns in Kenya and Uganda
All Black hooker Anton Oliver, ahead of this weekend's international against England:
Twickenham is one of the ultimate arenas. It's the arrogance and hubris of the English crowd. After we beat them there last year, when you read the papers the next day you'd have thought that they had won the game. It's that kind of blind ignorance and arrogance that really gets up the noses of Australians and New Zealanders… We are all basically a large penal colony down here and we've got no right to assert any dominance in world rugby.
"There is nothing more elusive or futile than the pursuit of fitness levels long since lost. As many a sportsman or woman will testify you either keep up the age-old routines into old age or you kiss goodbye forever to any revival of former glories" – Steve Cram in a sensible moment, before he runs in Sunday's New York City Marathon
"There is a pernicious myth surrounding the Olympic Games. We have convinced ourselves that it is a gleaming symbol of meritocracy,
a place where sportsmen and women achieve through talent rather than privilege. It is time to wake up and smell the claptrap" – Matthew Syed in The Times begins an argument for the inclusion in the Games of kabbadi
"Matthew Syed may scoff at the odds, but Sir Steve Redgrave, Kip Keino, the Williams sisters, Dame Kelly Holmes, Amir Khan or dozens of Cuban boxers wouldn't agree" – the meritocratic riposte from public school-educated Matthew Pinsent (pictured left)
Add your favourite quotes, from sport or journalism, from the past week in the Comment box below