IAN COLE's weekly round-up of sporting quotes takes in the travails at West Ham, F1 drivers Lewis Hamilton and Jenson Button, tennis player Andy Murray, and Arnold Palmer's views on Tiger Woods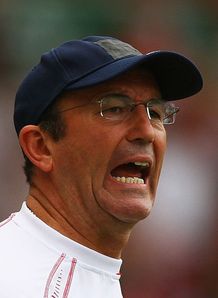 "Nobody at the club should delude themselves that we are a good team. The table does not lie. We can and must do better. I apologise to every supporter for the pathetic showing" David Sullivan, the West Ham co-chairman, e-mails season ticket-holders after a 3-1 home defeat by Wolves.
"I've got a chairman who is rock solid, lets me manage, never interferes and is at his best when things are going badly. It will be interesting to see now what backing Gianfranco gets" Tony Pulis, the Stoke City manager, pictured left, shows that his sympathies lie with West Ham's manager Zola, after his side won their game 1-0.
"When I first joined The Observer, in 1991, nobody spoke to anyone… I was thinking the other day, having been stuck in a hotel in Bagshot, huddled around an England player on media duty in a group of a dozen reporters, sharing our exclusive on him, that there was more fun in being completely shunned by those players. The deliberate silence of Brian Moore back then said a lot more than the carefully delivered nothings from the latest graduate of the media training course" Eddie Butler, former Wales rugby captain and Observer rugby correspondent, in his final online piece before redundancy.

"Whose call was it to bring me in? Fucking stupid idea" Lewis Hamilton, the 2008 world champion, on the McLaren team radio, questions his team instructions to pit during Sunday's Australian Grand Prix.
"It was my call" Jenson Button, above, the other McLaren driver, who won the race, on his decision to change tyres early. Hamilton placed sixth.
"I was going to keep my opinion to myself, but I do think the best thing he could do would be to open up and just let you guys in the media ask questions. You asked about moving on. Well, that would be the best way of moving on" Arnold Palmer offers his view on Tiger Woods' "media management".
"It's time for people to start being positive about British tennis and I don't think the right person to start picking on is me" Andy Murray hits back at criticism from John Lloyd that Murray's absence from the Davis Cup tie in Lithuania cost Britain the match and, subsequently, Lloyd his job as captain.
"Do you think it's appropriate for sportsmen to be endorsing high-calorie treats during an obesity epidemic?" Simon Burnton, of The Guardian, puts a question to Peter Shilton, when the former England goalkeeper is put up for a pliant interview by Mars bars.
"City have bought players with undoubted talent who can win games, individuals who can make the difference. Given time, they might have a team like Everton" David Moyes, the Everton manager, before his team beat Manchester City 2-0.
"You must be joking. It must have been a weak moment from Ryan" Sir Alex Ferguson reacts to a suggestion from Ryan Giggs that he might revive
his international career with Wales at the age of 36.
"It's as devastating a result as I've had in the game. Our chances of finishing fourth? On that performance, we wouldn't finish 44th" Martin O'Neill, right, whose Aston Villa side was humbled 7-1 at Chelsea.
"Why would a commuter buy The Guardian if they can download an app?" John Humphrys, the Radio 4 presenter, joins the newspaper paywall debate in his host's speech at the British Press Awards.
"He can run, he has power, he's a cool finisher…we just need to get a bit of devil in his stomach" Iain Dowie, the new Hull City manager, on American striker Jozy Altidore.
"The biggest annoyance for me, even in our position, is when people don't try. I said to the lads at half-time 'We're 2-0 down and I am not prepared to accept another five-goal thrashing'." David James got a second-half response from his Portsmouth team-mates at Spurs. The match finished 2-0.
---
SJA dates for your diaries
Mon Apr 12: SJA Spring Golf Day , to be staged at Surbiton GC. To book, contact Paul Trow (07973 862747).
Thu Apr 15: SJA 2010 Annual Meeting, at offices of UK Sport. For more details, click here
Mon Apr 19: SJA/LOCOG guided tour of Olympic Park, 2pm For booking details, click here.
Sun Apr 25: SJA Cricket Day. Enjoy corporate hospitality with friends and colleagues, and bring along your partner, as Lancashire take on Surrey. Tickets £65 each. Click here for booking details.
Wed May 19: A Question of Boris:The SJA's second "Sporting Question Time", this time with London Mayor Boris Johnson at City Hall. This will be strictly for SJA members only. To book your ticket, click here to send us an email with your name, SJA membership number and address, writing "Sporting Question Time with Boris" in the subject field
Mon Sep 13: SJA Autumn Golf Day, Muswell Hill GC. To book, contact Paul Trow (07973 862747).
All dates and details subject to change.
---
Click here for more recent articles on journalism, sport and sports journalism
---
Join the SJA today – click here for details and membership application form
---