SARAH JUGGINS reports on a week when sports journalism has been the talk of a parliamentary select committee and Woman's Hour
Discussing the participation of women in sport, and in sports journalism, is a bit like the arrival of buses. Nothing for months, then three spotlights all focusing on the subject over the course of last week.
On Tuesday, the parliamentary select committee on culture, media and sport held the second of its select committee inquiries into women's participation in sport, as it seeks to find evidence of an Olympic legacy. On Thursday, Sky televised the Sunday Times's Sportswoman of the Year presentation. And on Friday, sports journalism was discussed on BBC Radio 4's Woman's Hour.
The sports participation figures are damning. Research carried out by Sport England suggests that just a little more than 30 per cent of women play sport once a week, compared to more than 50 per cent of men. This has not improved since London 2012, and there seems no clear evidence that the Olympic successes of of Jessica Ennis, Laura Trott or Katherine Grainger has made any difference to female participation whatsoever.
When it comes to the media and its influence on participation, two avenues are being explored by the select committee. On the one hand, the amount of air time or column inches devoted to women's sport was cited as a possible reason for women not to flock to sports clubs, running tracks and swimming pools, while the second issue concerned the number of female broadcasters, presenters and journalists, and the quality of their work.

How nearly £1 billion has been spent over four years by Sport England on increasing participation – with a (missed) target of an extra 1 million participants, men and women, by 2012 – or the impact of the withdrawal of government funding for the school sports partnership do not appear to be up for consideration.
Facing the MPs in the first half of last week's session were Barbara Slater, the director of sport for the BBC; Simon Green, head of BT Sport; Dan Brooke, the chief marketing and communications manager for Channel 4; and Andy Cairns, executive editor, Sky Sports News. The committee later looked at print journalism; I attended on behalf of the SJA, following our written evidence submission, and with me was Andrew Longmore, from the Sunday Times.
The full session can be seen here.
The first question to the broadcasters concerned the amount of coverage given to women's sport. Green responded that of the 9,000 hours of live action covered by BT Sport this year, 1,000 hours was devoted to coverage of women's sports. Slater said that from the Beijing Games until the London Olympics, 20 per cent of the BBC's coverage was of women's sport. This was, she said, much higher than the 5 per cent statistic for coverage of women's sport published in research from the Women's Sport and Fitness Foundation.
Slater said that overall 54 per cent of sports viewers are men, but that the BBC's coverage this year of the women's European football championships had attracted an audience which was 70 per cent male. She also made the point that today, what sports events broadcasters show is determined not out of free choice, but by what rights the broadcaster holds.
Sky Sports showed 1,821 hours of women's or mixed gender sport, a figure that has seen a year-on-year increase, and Channel 4 – where sports rights now are confined almost entirely to horse racing and Paralympic sport – said that 50 per cent of its coverage included women.
The questions got tougher when MP Jim Sheridan challenged the broadcasters about their employment of female presenters. He suggested that women were only employed if they were "young and attractive". Philip Davies called the broadcasters' array of statistics, "A masterclass in politically correct tokenistic box-ticking", which he said he found to be "nauseating". None of the broadcasters had an answer when he asked whether they had figures to demonstrate whether employing women presenters had influenced the number of females watching sport on television.
There was a moment of stunned silence, before Slater said, "We appoint on merit. We want a diverse mix of talent and we use a diverse range of programmes to showcase that talent. It is about inclusivity, but it is first and foremost about expertise and knowledge."
Cairns said: "Women make up 30 per cent of our audience and they go to football matches, they go to cricket matches, they play sport. It's quite right that they are reflected in our presenter line-up. Our presenters are all experienced, qualified journalists and they are there on merit."
It was noticeable that once the television part of the session finished, some of the members of the select committee – including its chair, John Whittingdale – felt that they had more important things to do than to hear the print media's evidence. But then, the representative of the NUJ who was due to attend was also absent.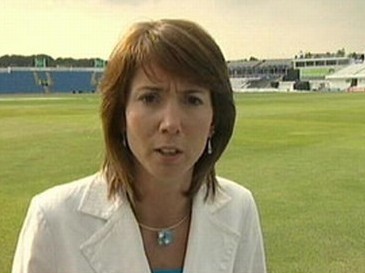 Andrew Longmore and I made the point that, while the traditional sports of football, rugby and cricket were heavily male-dominated, for other sports such as cycling, athletics, swimming and rowing, the reporting didn't really have a gender imbalance. The committee heard that there are few women working in sports journalism – only around 10 per cent of the SJA's members are women, and many of these work in PR, rather than as sports writers, editors or photographers.
Longmore made the point that gender imbalances were often seen in other areas of journalism: for example fashion desks are women-dominated. He suggested that maybe women journalists were not attracted to sports journalism.
This was a point that received airtime on Woman's Hour, when BBC journalists Tanya Arnold and Katherine Downes were in conversation with Jenni Murray.
Both women had spent a number of years working as news reporters before switching to sport. Downes said: "As trainee journalists we were in a very competitive industry, so we wanted to work in the area that was seen as the most important. The boys would rush off to report on the rugby but, as girls, we felt that sport was less important than news or politics."
According to Downes, this attitude towards a career in sports journalism begins even earlier. "If you go into your average sixth form, you will not find many girls saying they want to go into a career in sports journalism."
Arnold now does pitch-side reporting, while Downes works as a television news sports presenter in Salford.
"You have to have a passion to cover sport," said Arnold. "It can get lonely as the only woman in the room, but that is slowly changing.
"Women's sport is getting more airtime, so you might see more women in sports journalism but, at the same time, women cannot just be given jobs because they are women."
Between now and the end of 2013, anyone wishing to join the SJA may apply, with their initial fee covering their membership through until the end of 2014 – effectively 13 months' membership for the price of 12. Click here for more details
---
UPCOMING SJA EVENTS
Thu Dec 12: SJA 2013 British Sports Awards. Bookings now open. Click here for details
Tue Dec 17: SJA Masterclass with Twitter's Lewis Wiltshire. Click here to book your place
2014
Mon Mar 24: SJA British Sports Journalism Awards, Grand Connaught Rooms, London
Mon Apr 14: SJA Spring Golf Day: Croham Hurst GC, Surrey. Booking details to be announced