Tomorrow, July 29, marks the 60th anniversary of the opening of the last London Olympics. Guardian writer Emine Saner and photographer Katherine Green have visited, interviewed and photographed several veterans of the British team from those 1948 Games. The Guardian Unlimited website even links through to the contemporary newspaper reports fvrom that era of paper rationing – complete with misspellings of gold medalists' names, no result details and certainly no picture bylines.
Here's a taster of Saner and Green's work, with interviews with Dorothy Tyler and Tommy Godwin
Dorothy Tyler, aged 88: silver medal, high jump
The 1948 Games were not Dorothy Tyler's first Oympics. She had already won silver in the Berlin Games in 1936 when she was only 16 years old. She wore homemade shorts and vest, and it was her first time abroad. There were big Nazi flags
and the Hitler Youth were all over the place, she says.
What must it have been like, with the nerves to control and the concentration it must take in the Olympic Games high jump? "I didn't really think about it," she says. "I didn't even measure my run up. I just picked a spot, ran and jumped over the bar. It was just something I did."
One of the women she competed against there – a deep-voiced German called Dora Ratjen – later broke one of Tyler's world records. "They wrote to me telling me I didn't hold the record and I wrote to them saying 'She's not a woman, she's a man'," she says. "They did some research and found 'her' serving as a waiter called Hermann Ratjen, so I got my world record back again."
Back in Mitcham, south London, Tyler took a secretarial course and became a temp so she could take time off for training. During the first week of the second world war, her house was bombed by the Germans while Tyler and her family were in the bomb shelter in the garden. She went on to become a driver, driving everything from trucks to buses. "I remember driving through the buzz [V1] bombs in this great lorry. The funny thing is, you get used to a war, you stopped worrying about it – you just think, if my time has come, it's come."
By the time of the 1948 Olympics, Tyler was 28 and married with two children – and her name wasn't even on the list to compete. She started training – with the country still under rationing, supporters would send her food parcels and her mother kept chickens to keep Tyler's strength up – and during one session, she recalls, "I jumped so high I couldn't believe it and I didn't tell anybody. I was too frightened that if I boasted, I wouldn't be able to do it again."
What does she remember about the 1948 Games?
"We were in a rather run-down hotel in Victoria and we were given a pint of milk a night. We were taken to Motspur Park in south-west London by coach to train, but nobody took much notice of us. But it was wonderful for the country. It was like the sun coming out after the terrible days of war and it was a wonderful thing. And we did it on a shoestring – there was a track round Wembley stadium and we were all staying in schools, dormitories and hotels, and yet nobody complained."
Tyler took silver for the high jump, but she should have entered the long jump too, which she was also good at – a week later, she jumped further than the Olympic gold medal winner.
Last year, Tyler, who has been married for 67 years and has two sons and a clutch of grandchildren, had a stroke which left her unconscious for three days, although you wouldn't know it to look at her now. She plays golf most days at her local club in Surrey, and last week, she outplayed the three men on her team. "I am quite competitive, yes," she says with a smile. Is there anything she isn't good at? She thinks. "I wasn't any good at typing."
---
Click here for the archived report of Tyler's silver medal
---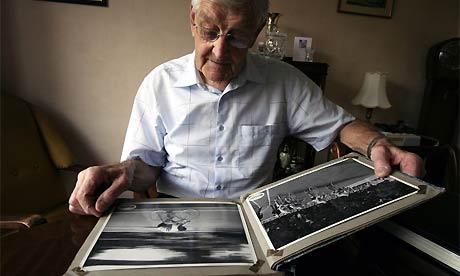 Tommy Godwin, 87: two bronze medals, cycling
Tommy Godwin's cycling career began when he was 15 and an errand boy. "I had to deliver groceries on a bike with a big basket on the front," he says. "I met some people who were keen cyclists and they used to give me cycling books and I started getting interested."
Godwin, who now lives with his wife Eileen in a village near Solihull, kept on pedalling. He still cycled regularly at his club until he had a triple bypass operation 12 years ago, but gave it up after the operation. "Then, last year, I thought I wouldn't mind a mountain bike to pop down the shops. Eileen's not very pleased about that, so I don't do a lot."
Godwin picked up a huge range of medals and trophies during his cycling career, including two bronze medals at the Olympics in 1948 at the age of 26 (for the 1,000m time trial and the team pursuit); when he retired from racing in 1953, he became a coach and trainer and opened a cycle shop that the couple ran for 36 years. I feel for Eileen – she has had to put up with cycling all her life.
The first time Godwin took his future wife to the cinema, during the war, then waited with her before she caught her train back to the nurses' station where she was working, he talked endlessly to her about cycling. "She said that all she gained from me talking to her was that bicycles were my first love and nothing else would come between me and that," he says. Eileen, sitting on the sofa across the room of their warm, neat semi, laughs.
"The sport has been very good to me because I've travelled the world and had this wonderful career, but I owe everything to Eileen really," says Godwin, touchingly uxorious. "Eileen is a first-class wife, couldn't be better. We'll have been married 64 years this year."
Godwin describes the 1948 Olympics as "very austere but fun. It didn't have the hype that it does now, but after the war and with the whole world still in turmoil, to take the Olympic Games on was a wonderful thing. It was the youth of the world getting together and you just enjoyed yourself – if you got a medal, you were very proud but you knew it wouldn't make a very big difference to your life. I came back and people at work were, 'Ooh, you've won a medal'."
The Godwins' lives were far away from the pampered existences of today's athletes. They lived in a small terraced house with an outdoor loo, and Godwin still worked every day at the Birmingham Small Arms Company, where he had been an apprentice. "We had a letter in May saying we would be getting food parcels from abroad," he says. "And we had one food parcel at about the end of May that was supposed to keep us fit until August. There was nothing like the competitors' villages." They stayed in a house belonging to a journalist, near the Herne Hill velodrome in south London, and his mother came down to cook for them. "We were having spam fritters and toad-in-the-hole; we ate what we could get."
He shows me the vest he wore for the Games – a heavy lump of a thing that almost looks hand-knitted. His weighty steel bike cost him, he still remembers, "£10/19/6. It had wooden rims [on the wheels]. Now the frames are carbon fibre and titanium, and they've got these streamlined, skintight clothes and helmets. It's wonderful, really, to see the development of the sport, but I never raced on an indoor track in my whole career."
What did it feel like when he was riding his bike? "Riding a bike is everything to a cyclist . . . The friendship and the camaraderie you have with other cyclists. To a cyclist, it was the be all and end all of your life."
---
Read the contemporary Guardian report on Goodwin's medal-winning feat by clicking here
---
For the rest of the Saner interviews, with Dame Mary Glen Haig, Cathy Brown (nee Gibson), Ron Cooper, Roy Romain, click here.
The SJA is running a series of articles celebrating 60 years of the Association, commemorating great sports events and great sports journalism over the past six decades. To read John Rodda's account of what it was like to work at Herne Hill covering the 1948 Olympic cycling events, or David Hunn's history of the early years of the then SWA, or to read Hugh McIlvanney's interview with the greatest footballer from the British Isles these past 60 years, plus much more, then click here.
---
SJA MEMBERS: Make sure your profile details are up to date in the 2009 SJA Yearbook by clicking here
---