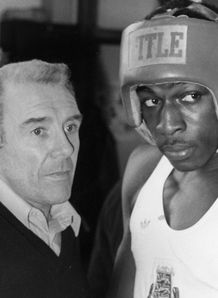 Terry Lawless, British boxing's "Maker of Champions" who trained or managed the careers of six world champions, including heavyweight Frank Bruno (pictured with Lawless, right) to his clash with Mike Tyson, died in the early hours of this Christmas Eve, aged 76.
The retired boxing manager had been suffering ill health for several years after moving with his wife, Sylvia, to Marbella.
Lawless died in hospital in Spain this morning, following a gall bladder operation.

SJA member Norman Giller said: "Sylvia has telephoned me this morning to tell me the sad news. I feel as if I have lost a brother, because Terry and I were the closest of friends for more than 50 years.

"He will be remembered as one of the all-time great boxing managers, and there will be a parade of boxing writers who will confirm that he was also one of the nicest people in the sports business."
Born in West Ham on March 29 1933, Lawless first took out a boxing manager's licence after completing his National Service in the mid-1950s. During the following 45 years, he managed more than 50 boxers and guided four boxers to world titles — John H Stracey, Maurice Hope, Jim Watt and Charlie Magri.
He also managed Joe Calzaghe early in his career, and was best known for steering Frank Bruno to a world title challenge against Mike Tyson (Bruno later won the championship under the guidance of Frank Warren).
Throughout his managing career, Lawless was based at the Royal Oak gym in Canning Town, close to where he was born.
He worked closely with promoters Mickey Duff, Jarvis Astaire, Harry Levene and Mike Barrett when they were the powers in British boxing throughout the 1960s and into the 1980s.
Lawless was a walking record book on boxing, and a fitness fanatic who was best man at the wedding of his boyhood friend Sammy McCarthy, a British featherweight champion in the 1950s. It was this friendship that led him into first training and then managing fighters.
Famous for looking after his fighters like a father rather than a manager, Lawless often fell out with matchmaker Mickey Duff because he did not want to expose his boxers to unnecessary dangers. Duff stated in his autobiography that Lawless was always asking for opponents who would defend but not attack.
After retiring to live in Spain in the 1990s, Terry often said that he was happy to be remembered as the manager who did not want his boxers hurt.
His close association with Duff, Astaire and Levene led to accusations of a monopoly, but Lawless always claimed that anything he did was with the best interests of his boxers at heart.
His early stable of local boxers included former London amateur stars Stan Kennedy, Johnny Caiger, Jimmy Tibbs, Silvester Mittee and Jimmy Anderson. He hired George Wiggs and Frank Black as his training assistants, both of whom stayed with him for more than 10 years. Tibbs later rejoined Lawless as a trainer, as did George Francis, who later formed a winning team with Frank Bruno.
Jim Watt wrote in his autobiography Watt's My Name: "Terry is that rare breed of manager who treats his boxers like sons rather than fighters. He gives 100 per cent and demands the same in return. If it were not for him, I would not have got near winning a world title. He revitalised my career."
Terry was married to Sylvia for 53 years, and they have a daughter, Lorraine, and son, Steven.
---
Click here for more recent articles on journalism, sport and sports journalism
---
Your SJA subscription is due from JANUARY 1 – click here for details of how to make your payment
---