Disquiet surrounding football's licensing system for the written press is growing, the latest complaint being over the exclusion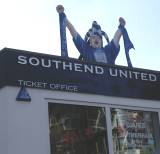 of a reporter from listings magazine Time Out. Here, TO's sports editor Andrew Shields puts his view of the position
Time Out covers London's 13 football clubs with full previews of every home game. Though we do not carry match reports, my team of previewers sometimes needs access to the press box in order to stay fully informed. We have a good relationship with many London clubs, who understand the nature of the magazine and our important role in encouraging Londoners to attend games – particularly at Football League clubs who need to attract more spectators.
Last season, my Barnet previewer (usually a pay-at-the-gate spectator at Underhill) was denied access to the press box, despite a formal faxed request, because he was not licensed. And recently my Queens Park Rangers previewer, a very experienced journalist well known to the club and who also contributes to local papers in west London, was denied a pass for QPR's away game at Southend United for the same reason.
I am well aware that some grounds have limited press box capacity and applications from journalists writing match reports sometimes exceeds the space available. On that basis, I would not even bother applying for a pass, for example, for Chelsea v Man U or a big London derby.
However, the licensing system works against journalists needing occasional access, and appears to be applied in an arbitrary fashion: some clubs stick rigidly to it, others don't bother. The fact that the system is not applied consistently by clubs is a strong justification for its reform.
An argument used in favour of licensing is that it weeds out "bogus" applications.
What do they mean? "Bogus" as in members of the public mocking up headed notepaper and pretending they're from a newspaper? That's easy to resolve: phone the sports editor and check.
Or "bogus" as in journalists who may not be directly reporting on a game and may have a critical point of view to research? I suspect the latter, which accords with the desire to control and "manage" media representation of the game.
When I raised this issue with other Time Out section heads, and asked whether our art critics, theatre, film and dance reviewers, or music writers could have their access to events arbitrarily restricted despite being bona fide journalists, the response was puzzled laughter. Likewise, every other sport I cover has a formal accreditation system with published criteria. The Six Nations, Wimbledon, Test and county cricket, for example, are models of clarity.
I resent the fundamental iniquity of this scheme, and the utter arrogance of the football authorities in believing they have the right to control who gains access to matches in order to do their job.
How has football been allowed to get away with this?
In 1985, Time Out famously challenged TV companies' monopoly on the publication of advance programme listings – and won. Perhaps now is the time for media outlets angered by football's licensing system to unite and mount a committed challenge to this similar restrictive practice.
Read our report on the legal challenge to the Premier League's licensing scheme by clicking here.