After three years as vice-chairman, Barry Newcombe was elected as Chairman of the Sports Journalists' Association at our annual meeting in April.
Newcombe's term will give him the responsibility of seeing the Association continue to grow and develop through to its 60th anniversary in 2008.
As the first in a regular feature on SJA members, Barry has completed the SJA website's questionnaire, in which he looks back on a career that began on the Chronicle and Echo in Northampton nearly 50 years ago.
In recent years, as well as his own freelance work, Barry has been at the 2000 and 2004 Olympic Games working as the SJA's liaison officer.
Here, Barry reveals his admiration for Muhammad Ali, Martin Johnson and Tom Clarke, and his jumbo-sized, sky-high ambitions had he not become a sports writer.
Give a brief summary of your career to date, and your current work
I started at the Chronicle and Echo in Northampton in 1957, and moved to London to join Hayter's Agency in 1964, where I was for a year before joining the Evening Standard, where I spent nearly 20 years. I had spells at the Sunday Express and then the Daily Express, before returning to Hayter's in 1999. Since 2002, I've been freelancing, covering mainly rugby and tennis for the Sunday Times.
What was your first sports journalism assignment?
Northampton v Headingley, rugby union in September 1958.
What has been your most memorable assignment during your career, and your most enjoyable?
The most memorable has to be the 1972 Munich Olympics, because of the terrible terrorist attack by Black September and all that that involved.
My most enjoyable was covering the 1995 Rugby World Cup in South Africa.
What is the latest task you have been working on – and was it good, bad or indifferent?
I've been working on Wimbledon coverage for www.wimbledon.org and the Sunday Times. And it was as rewarding as always.
If you did not work on sport, what do you think you might be doing?
A Boeing 747-400 captain.
Which colleagues or managers have been most influential or helpful in your career, and how?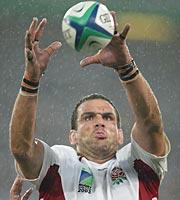 Tom Clarke, my sports editor at the Evening Standard between 1972 and 1974. He had vision and drive, fast reactions to stories, and always and caring.
What has been the best sports-related book you have read recently, and why?
Martin Johnson's biography. I dip into it often because of what he achieved for England rugby and English sport in winning the World Cup in 2003.
Name your greatest sporting hero, and why.

Muhammad Ali.
I covered some of his fights, starting with Chuck Wepner, the "Bleeder from Bayonne" when they met in Cleveland, Ohio, and I was at two of his three fights against Joe Frazier, of which one was the astonishing Thrilla in Manila.
Then there was the one against Ken Norton in New York, and I also saw him against Yorkshire's Richard Dunn when they fought in Munich.
Ali is everything they said he was but in small group situations he was immense: funny, understanding and always approachable.
What changes in the business during your career do you really dislike?
Increasingly early deadlines.
And finally: Grandstand or World of Sport?
Grandstand.
For details of how to become an SJA member, click here.