Graeme Souness is that rarity among television football pundits: someone who calls it as he sees it. NORMAN GILLER says that the former Liverpool and Rangers player and manager has always had faith in his own opinion
The beauty of blogging is that you can create your own hanger and a coat to hang it on. Did you know, for instance, that Graeme Souness celebrated his 56th birthday this week on the 55th anniversary of Roger Bannister breaking the four-minute mile barrier? Not a lot of people (want to) know that.

I watched Souness mournfully celebrating his birthday on Sky, trying to explain away Chelsea's dramatic demise in the Champions' League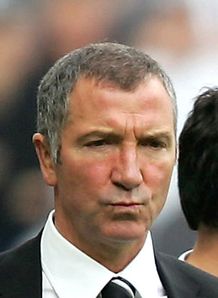 and giving little credit to Barcelona for having 70 per cent of the possession over the two legs [Editor's note: Mr Giller is engrossed in the history of Tottenham Hotspurts, and has therefore not had any direct experience of continental refereeing in Europe's premier competition for some time].
It brought back memories of the late Jim Rodger, one of the greatest of Scottish football reporters. A sort of Harry Harris with a haggis accent.
Squat yet seeming as wide as Hadrian's Wall, Jim was a giant on the Scottish Daily Express while I was slaving in the London office. His 50 years as the best informed reporter in the business is marked with the Jim Rodger Memorial Trophy (currently held by Scottish Sun columnist Bill Leckie).
Rodger and Souness come together in my memory because, thanks to Jim, I learned earlier than most that Souness was not only a star in the making, but also a head-strong boy who knew his own mind.
Tagged "the Sleuth who always told the truth", Jim was so close to
Tottenham manager Bill Nicholson that he knew all the Spurs secrets and kept most of them close to his chest, never sharing them with readers or colleagues.
He earned a mutual trust with chairmen, managers and players that got him an ear in boardrooms and dressing rooms throughout football. A committed socialist, Jim was on nodding terms with Prime Ministers and princes as well as most of the people who mattered in the game.
One day in 1970 he telephoned me in the Fleet Street office and whispered in the conspiratorial tone that he always used. "Get over to the digs of Graeme Souness and talk him out of doing anything silly," Jim said. "Bill Nick thinks he's going to walk out on the club."
"Graeme who?" I said. "I wouldn't know what he looks like, let alone where he lives."
"He's the hottest young prospect in the country," Jim said in a scolding tone, and proceeded to give me Graeme's north London address. "You'll be doing Bill Nick a big favour if you can tell him to just be patient and wait for his chance. He could not be with a better club. If you get him, put him on the phone to me. I'll talk some sense into him."
That was how "Rodger the Dodger" operated, working almost as a secret agent on behalf of managers across Britain and then being rewarded with some of the hottest exclusive stories in the game.
In those days I was more concerned with trying to dig out stories on first team players at all the London clubs and could not see the point of chasing after a youngster whose career had hardly started. But as I had so much respect for my Glasgow colleague, I drove to Graeme's digs, only to be told by his landlady that he had gone home to Scotland an hour earlier.
"What a waste of time," I thought. "As if anybody apart from Jim Rodger is going to be the slightest bit interested in this story." Wrong! It got to the point over the next few days when questions were asked in the House of Commons, as the story crossed from the back to the front pages.
Souness, then 17, had spent two years at Spurs as an apprentice who considered himself more of a sorcerer. He said he had gone back to Edinburgh because he felt homesick.
The suspicion at Spurs was that their hot young property had been "got at" and was being tempted away from Tottenham. The club reacted by suspending him without pay for two weeks. Souness's local MP took up the case and asked in the House what right a football club had to deal with "a minor" like this when his only "crime" was to suffer from homesickness. "Is homesickness something that should be punishable?" demanded the MP, managing to make Souness sound as hard done by as Oliver Twist.
The story became the property of columnists with poison pens, and Bill Nicholson, a fatherly manager if ever there was one, was unfairly pilloried. Souness, without having kicked a ball in
senior football, was suddenly the best-known young player in the land.
"I have never known such an ambitious and impatient young man," an exasperated Nicholson told me. "He has a wonderful future in the game, but he wants to run before he can walk. He can't understand why I'm not already considering him for the first team. He wants to jump ahead of established professionals like Alan Mullery, Martin Peters and Steve Perryman. His chance will come, but he must show patience.

"If he's ever picked for Scotland I wonder if they will find a cap big enough for his head."
A suitably repentant Souness returned to Tottenham, but he wore out the carpet to Bill Nicholson's office to the point where the veteran Spurs boss decided, reluctantly, he had no option but to let him go. Souness had made one brief first-team appearance in a Uefa Cup tie (substituting for Martin Peters in a match in Iceland) before being sold to Middlesbrough in December 1972 for £27,000. That was a hefty fee in those days for a virtually unknown and untried player. For ever after, Bill Nick considered Souness "the one that got away".
When I think of Jim Rodger I get this image in my head of Glasgow Airport, 1968. There's a rain mist as the plane carrying the England team for the annual football war with Scotland lands. I was walking alongside Sir Alf Ramsey — infamous for his phobia of all things Scottish — as we headed for the arrivals terminal.
Suddenly out of the mist appeared the wider than wide figure of Rodger, the only reporter who could have talked himself on to the tarmac.
Blinking through thick glasses soaked by the rain, Jim beamed as he spotted Alf. "Welcome to Scotland, Sir Alf," said Jim, as if a spokesman for his nation.

Alf glared at Rodger and replied: "You must be fucking joking."
For those of you following my progress as a self-publisher, the good news is that my book The Lane of Dreams went to the printers this week: 264 pages, with integral pictures and memories of scores of Tottenham fans to accompany my facts.
White Hart Lane legends Jimmy Greaves and Steve Perryman have contributed fee-free introductions as a favour to this old hack — what an example to today's money-mad footballers, protected by agents and rarely accommodating to the press.
The bad news: Tottenham are putting their promotional muscle behind a late comer in the race to mark the pending end of White Hart Lane. A book called Tottenham 'Til I Die is being rushed out, packed with the memories of Spurs fans. What a good idea.
This is the third book of this sort. Harry Harris was first out of the starting blocks with the fascinating Down Memory Lane, which gives a remarkable insight into the politics of Spurs in particular and football in general.
So now I turn from writer into salesman, and to stir up interest I am offering pre-publication copies autographed by Greaves and Perryman at £20 plus p&p. The price was decided democratically, through a debate among hundreds of Spurs supporters who have joined my Facebook group.
For somebody who started out 50-plus years ago with a typewriter and carbon paper, this is proving a rollercoaster of an adventure. Will it end in profit or bankruptcy? Watch this space.
---
Click here for more sports journalism links
---
Join the SJA today – click here for details and membership application form
---