Sue Mott, in the Daily Telegraph, meets a multi-talented former England rugby forward who is battling prostate cancer
When I received an email from Andy Ripley that said, "Hi Sue, attached a copy of my diary – unlike my genitals, it is now huge", I realised this interview would be different. It was. From being picked up at Lingfield railway station in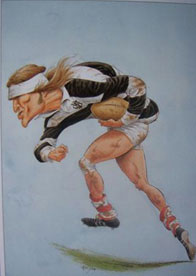 a gorgeous racing green motor, being fed lunch in a light airy kitchen among palm fronds, real vinyl Who albums and Viz annuals, meeting Torben, his dog, who ate my napkin, to being deposited back at the station in time for the stopping train to London Bridge, it was a window on a world you can scarcely believe exists.
Ripley's world is like no other. He is intelligent, funny, charming, eccentric, a terrible show-off, numerically brilliant, huge, fit, a world record veteran indoor rowing champion, 59 and, possibly, dying. That is, dying more imminently than most of us. He has cancer. "And it's one of the most brilliant things that's ever happened to me," he said, supping mussel soup.
Ripley doesn't have taboos. He will talk about anything. Love, death, sex, God and penile dysfunction.
He did degrees, worked for banks, wrote a book about forfaiting (which my computer won't even let me write without changing it to 'forfeiting' but is something to do with international trade), married Elisabeth, had three children called Mouse, Clouds and Stef, did well for himself, stayed fit, could sit on his rowing ergometer and cover 6,000 metres at a rate of 1min 52.5sec per 500m in training, didn't feel well, went to hospital with a suspected heart attack, was discovered to have a pulmonary embolism and, during the course of tests, and four (four!) digital rectal examinations in one day was found to have a PSA (Prostate Specific Test) 38 times higher than normal.
Read the Ripley interview in full here
More on prostate cancer: click here