Rob Steen selects the quotes that track the week's sporting events
"John McEnroe on TV says (mostly to himself, it sounds like), 'How do you hit a winner from that position?' And he's right. It was impossible. It was like something out of The Matrix. I don't know what sounds were involved, but my spouse says she hurried in and there was popcorn all over the couch and I was down on one knee and my eyeballs looked like novelty-shop eyeballs" – David Foster Wallace describes a "Federer moment" in the New York Times.
"I think I was a bit of an idiot really. I should have stopped straight away because it could have finished me off there and then" – Village cricketer Jim Young, who carried on playing for his club side after a heart attack
"Binge drinking and teenage pregnancies are the only games the English invented where they are still ranked No1 in the world, and like some of the dregs who shouted 'cheat' at Pakistan skipper Inzamam-ul-Haq, some of us would be better off teetotal" – Mike Walters of the Mirror on a day out at Bristol
Agents of distraction
"It's a rabid world. The agent has to think about himself rather than the player. Maybe it's not the best move for the player, but the agent needs the petrol for his Jag" – football agent Jon Smith tries to explain some of the wheeling and dealing before the close last week of the summer transfer window
"Chelsea might have lots of money, but those new directors lack class" – William Gallas, pictured left, denying his former club's claims that he'd threatened to score an own goal if he was forced to play for them.
On transfer deadline day, it was clear that Arsenal had come out best. It was a coup more spectacular than if West Ham had signed Carlos Tevez and Javier Mascherano, then Lionel Messi to boot. The Gunners had got rid of Pascal Cygan – Jonathan Northcroft, in the Sunday Times, suggesting that the north Londoners were ahead of the game before they swapped Ashley Cole for William Gallas and £5 million in cash.
Gareth Edwards, interviewed by Paul Ackford in the Sunday Telegraph, on the modern state of rugby:
"I don't want to give the impression that somebody who played his rugby a long time ago is dismissive of what is happening today. There are lots of things I admire and respect. The players are so fit, so big and so powerful. But, having played in an era when the basic premise behind rugby was that it was a sport which could accommodate all shapes and sizes, I don't think we have that any more. All we are doing is creating a game for big, muscular men. The subtlety isn't there to the same degree and that worries me."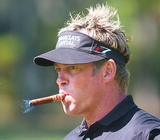 Fear and loathing
"Clarke's not afraid of anybody and, if he plays against Tiger, he's not going to shake in his boots" – Bernhard Langer, Europe's last Ryder Cup captain, endorsing the selection of Ulsterman Darren Clarke (pictured right).
"I know the guys who motivated me and I don't think Graham Henry would be one of those. Then again I don't think many New Zealanders would motivate me." 35 years after being part of the great Lions side that won the series in New Zealand, Willie John McBride shows that he harbours no grudges against the All Blacks
Lost in translation?
"I did not give Makelele an option. I imposed his return" – French football coach Raymond Domenech denies that he has treated the retiring midfielder Claude Makelele like a slave. Apparently.
"In 2004 at Yankee Stadium someone left up the line-up card from the night before. I looked at the wrong card, saw I was in the line-up and prepared all day. The game starts, and after we've hit, I run out to rightfield and see there's two rightfielders there. Alfonso Soriano and the umpire were laughing at me. Soriano yells, 'Hey, Junior! I think we got a problem!' " – Cock-up on the selection front, courtesy of Gary Matthews Jr of the Texas Rangers
Rob Steen is a freelance sports writer of 20 years' standing who is a senior lecturer on the BA Sport Journalism course at the University of Brighton.
And post your own choice quotes of the week in the Comment box below