Six Nations rugby, Winter Olympics and football debts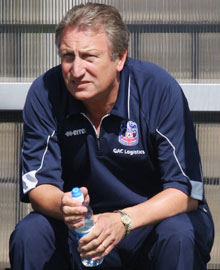 feature prominently in IAN COLE's weekly round-up of sporting quotes. Oh, and Neil Warnock and abuse
"Mr Massey says if he's got it wrong he will be suspended for a couple of games. I said to him, 'When you're sat on your settee will you think about us?' A referee and a linesman should see from that position that it is a goal kick and not a corner… The referee was let down by somebody who had a very poor game and I don't feel any sympathy if he is suspended. Personally I hope it is a long time" Neil Warnock, right, the "devastated" Crystal Palace manager, after Aston Villa grabbed a late equaliser in their fifth round FA Cup tie.
"I would like to thank everybody who has given me their support and, at the same time, thank everyone who has given me abuse because a lot of the time it's the abuse that spurs you on more than the support" Alun Wyn Jones, the Wales lock who kept his place for the Scotland game despite widespread condemnation of his sin-binning for tripping at Twickenham a week earlier.
"I was shitting in my pants" Franz Klammer, the 1976 Olympic champion, admits to the fear that downhill skiers must overcome before they hurtle down the mountain.
"I placed my privates on the line when I made that decision. You live or die by decisions like that" Ryan Jones, the Wales rugby captain, lives to tell the tale after he chose to kick for a draw against Scotland, before his side was given "extra time" to snatch last-gasp Six Nations victory.
"We've seen many examples of debt in football over the years and the difficulties it causes; we know what that means and we think that is inappropriate for this business" David Gill, Manchester United's chief executive, speaking in 2004 before the Glazers took the club over. The comment still appears on the club website. Manchester United's debt currently stands at between £300 million and £700 million, depending on how you approach the accounts.
"How many leagues have we won in the last three years?" Gill, last week, losing patience with a Manchester United fan who questioned why the club was now so heavily endebted.
---
SJA members can cast their votes for the best in sports broadcasting by clicking here
---
"We did some fantastic stuff. We created chances, we just didn't take them" Steve Borthwick, the England captain, proves you never get a true picture of the game from your fireside after England's unconvincing 17-12 Six Nations win in Italy.
"I am a person with principles and I won't allow anybody to walk overt me or my principles" Gianfranco Zola, the West Ham manager, is upset by chairman David Sullivan's suggestion that the little Italian may not be tough enough to be a Premier League manager. Zola's team responded with a crucial 2-0 victory over Birmingham.
"Football is not one and one equals two. Football is a game of passion. I understand that we have a problem but they need to give us an equal chance. This is not an operation without feelings. Football is more than this" Avram Grant pleads for understanding as his club, Portsmouth, head to the High Court to contest a winding-up petition brought by the taxman.
"In less than a second he went from 100-1 on to 10-1 against" Harry Findlay checks the market for the Cheltenham Gold Cup after his co-owned horse Denman unceremoniously dumped champion jockey Tony McCoy at Newbury.
"Running fast is the best thing I do. I just wish I'd done things a lot better a long time ago. But I'm here and it's made me realise what I almost lost" Dwain Chambers wins the UK 60m indoor title for the third successive year but can never shake off the wasted years of his drugs ban.
"I liked the idea of the project, the challenge to do it. It was like a dream to me. And if all their promises had
been true, we would have done it" Sven-Goran Eriksson returns to reality after leaving Notts County last week.
"It's a big thing for Afghanistan, the cricketers and the nation. It's my greatest achievement as a coach and I am extremely proud for the team and the country" Kabir Khan celebrates Afghanistan qualifying for the World Twenty20.
"I suppose it's on a massive wish list and, who knows, I might actually tick that one off" Roy Hodgson dreams of FA Cup glory with Fulham after a fifth round victory over Notts County.
"Rightly or wrongly I have concluded that his desire to earn the England No10 shirt is not as strong as I want it to be and as strong as it needs to be" Will Carling gives up on Danny Cipriani, above, after considering the task of steering his rugby career back on track.
---
Click here for more recent articles on journalism, sport and sports journalism
---
Book your tickets for sports journalism's Big Night Out – the British Sports Journalism Awards on Monday March 8 – click here for details and booking form
---