This week's quotes include Tiger Woods, Caster Semenya, Jessica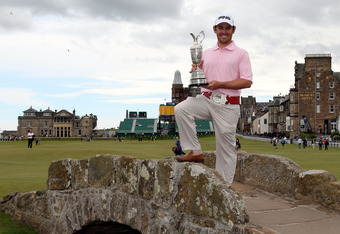 Ennis, Bradley Wiggins and Sir Alex Ferguson on why he does not want the England manager's job. By IAN COLE
"When I was walking down the 18th I was thinking about him and the unbelievable work he has done for my country. So happy birthday to him" Louis Oosthuizen, from South Africa, wins the Open at St Andrews on Nelson Mandela's 92nd birthday.
"The idea that some inexperienced, young journalists on low wages in some subbing factory in the middle of Yorkshire can match the experience and ability of MGN's subs and artists was nonsense" British Association of Journalists' statement after Trinity Mirror announced it was "outsourcing" sub-editing on its national titles as it seeks to cut 200 jobs, leading to the threat of strike action.
"People say she looks like a man, so she is a man, but that's wrong. If Caster took down her trousers people would see she's a woman" Michael Seme, the coach of 800m world champion Caster Semenya, ahead of her return to the track.
"I've enjoyed every moment of my England career and worn the shirt with pride every time I've been fortunate enough to have been selected" Emile Heskey puts an end to rumours that he retired from international football in 2001.

"Within seconds of celebrating my world title in Berlin and hearing the national anthem I was thinking about the world indoors, then the Europeans and, ultimately, the London Olympics. I won't be happy until I've won them all" Jessica Ennis, the SJA's Sportswoman of the Year.
"I've been asked to manage the England team on a couple of occasions, but it's just out of the question. It's a poisoned chalice anyway, a terrible job. Plus, I have a tremendous handicap in that I'm Scottish" Sir Alex Ferguson
"I have dual nationality, part British, part Kenyan, but you can hold only one sporting nationality, so a decision had to be made. It's not a decision against anyone or anything. It's made by me, about me. Now I've made it I'm moving forwards, that's good" Achieng Ajulu-Bushell, at 16 the fifth fastest in the world over 50 metres breaststroke and very positive about her forthcoming debut for Britain in the European championships.
"There was, I think, one hockey correspondent, probably from The Times or the Telegraph, who came out for the Games. Sport didn't really attract the media interest then that it does now. There were a few stars, like Roger Bannister, but for the rest, we were all amateurs and we just got on with it" Sir Derek Day on receiving his Olympic hockey bronze medal last week, after
a 58-year wait.
"To be honest, I've got nothing. I just haven't got the form. I'm trying my hardest and battling on rather than giving up. I just haven't got it as I did last year" Bradley Wiggins, pictured left, fourth in the Tour de France in 2009, struggling in the mountains this time.
"I've always struggled on slower greens. I've always putted well on faster greens. This putter comes off faster. It rolls the ball better and rolls it faster. I've had to make only little adjustments in how hard I'm hitting it compared to my old putter" Tiger Woods, the day before the Open, announces his divorce from a putter which has helped win him 13 majors in 11 years an around $90 million. He was back to his old faithful by the final round.
"Tiger Woods shot even par yesterday. Double bogey on the answers to the personal questions. Eagle on the shameless plug for Nike, the company that makes money out of using his dead dad's voice to sell golf gear" Oliver Holt, in the Mirror, on the world No1's press conference performance.
"It was a frustrating day but I'm not going to get downhearted. I know I am going to win a major, it's a matter of time" Paul Casey
"I'm not quite myself at the minute in terms of getting the head screwed back on. Cloud 9 is now down to about Cloud 5. There's definitely been a sense of coming down this week" Graeme McDowell, the US Open winner, finished 13 shots behind the winner at St Andrews.
"The great thing is you can put them on in the dark and any colour shirt is going to match" John Daly on his hideous golf trousers.
"There were 200 people there but nobody saw it. Some bloke said he'd found it but he was only joking. I didn't find that very amusing" Ewan Porter lost his ball in the St Andrews gorse and took an eight.
"That's for the winners of this world. In fact I was thinking about walking the plank that runs alongside" Colin Montgomerie refuses to pose for photographers at the Swilcan Bridge as his final round 73 for a 292 total left him 20 shots off the lead.
"Despite the intense pressures of ferocious competition, nobody has squealed or flounced or cheated. Nobody, so far as I am aware, has insulted or demeaned an opponent. And, although they are playing for a first prize of £850,000, nobody has attempted to shave the rules or steal a cheap advantage.

"There may be precious few saints on the pro tour but on major occasions like this, the golfers do their sport some admirable service" Patrick Collins in the Mail on Sunday finds that footballers do not compare well with golfers.
---
SJA MEMBERS: Make sure your profile details are up to date in the 2011 SJA Yearbook by clicking here
---