By Barry Newcombe
Andy Murray was wearing a grey suit, pristine white shirt and tie. So, too, were the other seven players in the Barclays ATP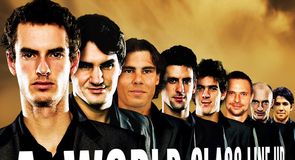 World Tour finals, which start at the O2 Arena today.
Murray and his rivals were on the South Bank, opposite the Houses of Parliament, and if they had strolled en masse to the seat of Government and headed for the debating chamber, they were suitably attired for the task.
But these men conduct their arguments with a racket and tennis balls and there is no question that they will be offering high calibre combat in an arena which promises to showcase intensity and ambition in equal measure.
The big players are all here. Rafael Nadal, of Spain, is champion of Australia. Roger Federer, of Switzerland, won both the French Open and Wimbledon. The newest Grand Slam champion is Juan Martin del Potro, of Argentina, who beat Federer in the US Open final in September.
Completing the eight players who will chase the title are Murray, Fernando Verdasco, of Spain, Novak Djokovic, of Serbia, Nikolay Davydenko, from Russia, and Robin Soderling, of Sweden.
If any of the eight wins all of the five matches in front of them they will earn close to £1 million for a week's work; £963,000 to be exact. Murray opens against Del Potro and has Federer in his group in the eight-man showdown which is being played in London for the first time.
---
Book tickets for the glittering SJA 61st annual British Sports Awards, being staged in London on December 9 – click here for details and booking form
---
Murray has beaten del Potro four times in five matches. He has beaten Federer, too, six times in nine matches. But Federer insists: "It's up to me whether I win or lose, not up to him."
Murray believes the finale is a "great way to finish a long year" in which he has won six tournaments. But he has not yet nailed down a Grand Slam title and winning at the O2 would add to his confidence towards that end in 2010. He thinks the atmosphere in an arena which already showcases so many talents will be huge.
Out of the 39 end-of-year finals staged so far, Pete Sampras has the most titles with five, the last in 1997. The only player in London who can catch up with him this time is Federer, who was champion in Houston in 2003 and 2004 and again in Shanghai in 2006 and 2007.
London stages the finals, which also includes doubles, for the next five years. New York has been the greatest staging post for the finals with 13 tournaments, the last in 1989. But, at last, London's opportunity has come and someone is going to seize it with both hands.
---
Click here for more recent articles on journalism, sport and sports journalism
---
Your SJA subscription is due from JANUARY 1 – click here for details of how to make your payment
---