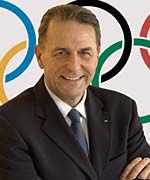 Jacques Rogge, the president of the International Olympic Committee, confirms that, following the 2012 London Olympics, he will stand down as the head of the most influential self-appointed sports club in the world.
Rogge, the Belgian surgeon who has been IOC president since 2001, when he succeeded Juan-Antonio Samaranch, is expected to be re-elected for another four-year term at the IOC Congress in Copenhagen in October. IOC rules do not allow him to remain in office beyond his next term, which ends in 2013.
In an interview with the AroundTheRings website, he says:
"If re-elected, my term would last until 2013 and I would still have I think about nine years lease of life as an IOC member.

"But I think that would not be proper. I think when you have led an organisation, you become a past or honorary president. I think at the end of my term it will be time for me to resign from the IOC and for the IOC to decide what to do with me.

"I think the first quality of a past president is to shut up."
Rogge competed at three Olympics as a yachtsman, but was also a Belgian international at rugby
union – a factor suggested as being influential in last week's IOC Executive Board's recommendation that rugby 7s should be included in the Olympics from 2016 (although Rogge in fact exercised no vote at the EB meeting).
In the interview, Rogge expressed complete satisfaction with the progress being made by London 2012 organisers, and the issue of post-Games legacy.
"I think the legacy will be a good one," Rogge, 67, who has been an IOC member since 1991, said.
"The basics of the legacy are there. I think this is a tremendous legacy… the remediation of east London. There will be a great urban bricks-and-mortar legacy in terms of new affordable housing. And there will be an athletics stadium remaining with a good manageable capacity, so you will have possible sporting legacy.
"I believe in the effect of the intangible legacy — more popularity for sport, physical education and engagement in sport at the level of the British population. There will be a legacy of public transport that will remain.
"There will be no white elephants."
---
Click here for more recent articles on journalism, sport and sports journalism
---
Join the SJA today – click here for details and membership application form
---