From Barry Newcombe, SJA Chairman
Beijing, Saturday: Australia might not have finished as high in the medal table as they would have liked but they are still going to put their
medallists on parade. They will be flying around the country visiting state capitals in a move which might count as the start of their drive to London 2012.
Meanwhile, in Britain we are looking at a medal celebration in London. Why not Edinburgh, Cardiff and Manchester as well?
â–¡ This will be the last of our Beijing Blogs. No more hob-nobbing with President George Bush, Prime Minister Gordon Brown, Henry Kissinger or Tony Blair for me. Instead, I'm off to run in tomorrow's marathon, so instead we are running a series of Beijing perspectives from leading sports journalists, including Jim Lawton, Richard Williams and John Goodbody.
One of the questions they have all been asked is who is their star figure of these Games. It surely comes down to two main contenders: swimmer Michael Phelps, who is helping out in London tomorrow at the handover party in The Mall, or sprinter Usain Bolt (pictured left), with his stunning three golden world records.
Who is your choice?

This site is here to stimulate some discussion, so please make sure you post your comments, responses, thoughts and ideas on the lessons from Beijing 2008 for London 2012, and how we, as sports journalists, are affected.
â–¡ So now we know: London 2012's eight-minute handover section in tomorrow's Closing Ceremony will depict the UK capital as a city of double decker buses, privet hedges and umbrellas… aaaaahhhh. Only the Pearly Kings and Queens and jellied eels are missing. Apparently Led Zeppelin's Jimmy Page is very good, though even he is playing a song that dates from 1969. Hardly contemporary or cutting edge, is it?
Our mole at the dress rehearsal assures us that it is all great, and that at no point do Posh and Becks and the cast of EastEnders lead the audience in a right-old Cockney chorus of Knees Up Mother Brown. However, one crowd in east London at one of the satellite events from The Mall party is being encouraged (really) to join in with Maybe It's Because I'm a Londoner. Gor blimey.
â–¡ Not that we would encourage stereotyping along national lines, but did anyone else notice that in the men's hockey semi-final against the Netherlands, the Germans won a penalty shoot-out?
â–¡ Perhaps they could get Rebecca Adlington to sing at the ceremony.
The double gold medallist had to go through the intiation traditional to all British swimmers at their first Olympics, which usually involves some sort of public performance. The 19-year-old dressed up as a Spice Girl and sang Wannabe outside the Olympic Village.
â–¡ Here we are, into the final 24 hours or so of Britain's most successful Olympic Games for 100 years, with at least one further silver medal guaranteed from boxer James DeGale. All we now have to consider is how to recognise properly the medallists when it comes to our 60th annual SJA Sports Awards at the Brewery in London on November 26 (ticket booking will soon be open). We're open to ideas, though we have already discussed the challenges that the sheer scale of the British team's success has brought with our long-term sponsors, UK Sport. It promises to be a terrific, especially golden occasion.
â–¡ Someone ought to tell the Scottish FA that the Olympic tournament is the second most important international football event in the world, and that they actually have an opportunity to be represented in 2012.
Great Britain, through England men's performance in the European under-21s and the English women's
team at their World Cup, had qualified for both football tournaments in Beijing, but the BOA was unable to reconcile the Scots and Welsh to agreeing to playing under the Union flag. Thus 44 young footballers – including perhaps Wayne Rooney, Gareth Bale or Kevin McDonald – were denied the opportunity to play at the Olympics, in a decent tournament ahead of the forthcoming World Cup qualifiers, rather than in the meaningless, sterile friendly internationals staged in midweek.
The Bird's Nest Stadium was re-configured and given over to the men's football final this afternoon, between Lionel Messi's defending champions Argentina and 1996 gold medallists Nigeria. It was the hottest day of the Games so far, prompting FIFA's medical officer to order a compulsory water break after 30 minutes of the first-half.
In front of a packed stadium, Argentina won 1-0, Messi putting Benfica's Angel di Maria in to score close to the hour. The next match to be played in an Olympic Games will be the 2012 opener at Hampden Park in Glasgow.
â–¡ Good to see the Telegraph website catching up with a story we on the sportsjournalists.co.uk Beijing blog was reporting more than a week ago – that in China, a country renowned for the propagandist manner its spins certain stories, it has been the Americans who have been dissembling, by running Olympic medals tables based on the number of medals won, rather than the usual gold priority sequence, as used by the IOC in its official medals table.
There are many ways to rank national performances at the Games, as this page shows.
But as highlighted by the Telegraph's illustration, in the American version of the medal table produced by AP, Britain lost its third place in the medals table, to Russia. A case of Olympic "collateral damage".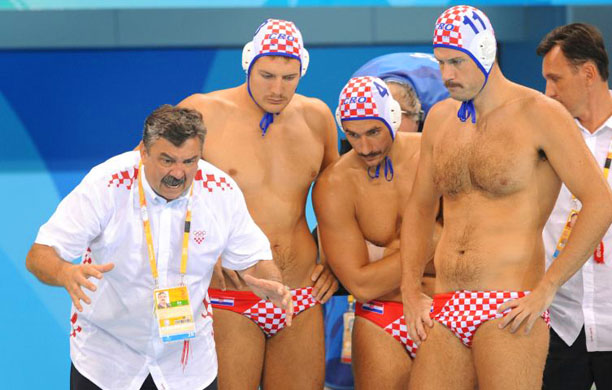 â–¡ There have been some great images taken by our photographer members at these Games, and they have been perhaps better displayed, more immediately, at these 2008 Olympics than ever before through the means of various website picture galleries. This gallery from the Guardian (click here for more), offers the lighter side of the Games, though the Croatian water polo team's cozzies and porn star taches are surely a serious offence that ought to be banned by the IOC
â–¡ Talking of Sunday's men's marathon, Dan Robinson, Britain's only runner, will want to race to the finish for a special piece of news: his wife, Jess, is imminently due to deliver the couple's baby. Dan, to avoid any pre-race distractions, has asked not to be given any news from home in England until after his race.
â–¡ Heather Fell was so inundated by text messages from friends and family after winning silver in the modern pentathlon yesterday that her mobile phone clogged up. Fell spent the entire press conference trying to clear out her inbox. "There weren't any I wanted to delete," she said.
â–¡ SMOG BLOG: Blue skies 8, Smog 13. Hottest day of the Games so far today. During the two weeks, we all got soaked, more than once, and there were some grey days, but – especially in the second week, not been too bad for the athletes to compete in. At least, come London in four years time, no one will be able to moan about the typical English weather too much.
â–¡ London Mayor Boris Johnson's meeting with his Beijing counterpart allowed them to compare notes on traffic congestion. "He was saying, and he was being frightfully ironical, that he couldn't impose a congestion charge on the motorists of Beijing with all the Draconian ruthlessness of the Mayor of London."
â–¡ Top marks for the BOA's press operation. As well as having press officers allocated to each team and available around the clock, plus a London office staffed throughout British business hours, one outstanding feature has been the regular team updates distributed to all media who requested the service.
The service has been speedy and timely, with news and quotes on all British competitors in Beijing, and has been vital for lone operators in the MPC or Bird's Nest Stadium, who have needed to keep abreast of other events while based centrally.
So big thanks to the small but dedicated team of Steve Ballinger, Tim Barnett and Liz Birchall, who are servicing the contract with the BOA through Matchtight, the Bath-based sports PR agency run by SJA members Caroline Searle and Bryn Vale.
Click here to read: Focus now shifts from the Bird's Nest to Stratford
Click here to read: Jowell – Beijing has taken Games to a new level
Click here to read: What's Chinese for "Six blank receipts please?"
Click here to read previous blog entries from Barry Newcombe in Beijing
---
Join the SJA today – click here for details and membership application form
---