From Barry Newcombe, SJA Chairman
Beijing, Monday: At 9.06pm on the steamy night of August 24, 2008, the Olympic flag was passed by Jacques Rogge,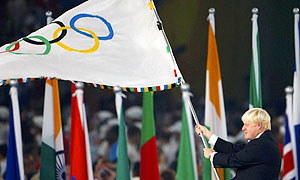 President of the International Olympic Committee, into the hands of Boris Johnson, Mayor of London, and the greatest project which British sport has seen moved a significant step nearer to reality.
The real countdown to the London 2012 Olympic Games has begun.

That Beijing 2008 were successful Olympics is beyond question. With what appeared to be an endless budget and a huge and limitless compliant work force, the first Olympics in China never faltered. They knew what they were doing, they did not want to put a foot wrong, they were warm and welcoming — and in all those areas any Olympic host city would want to follow their example.
The British Olympic team played its full and in some ways unexpected part by soaring up the medal table to finish fourth with 19 gold medals, setting a standard which their 2012 successors will be expected to equal and then surpass. A team of more than 600 athletes is being sought to make that challenge.
Chris Hoy, the triple gold medal cyclist, said as Beijing came to an end: "We have done amazingly well, we have the structure to let that talent develop. Now it is a home Olympics, with possibility of winning a gold medal in front of the British people. We are not going to sit back and say we have done the business, we have made significant ground and there is more to be done."
Sailor Ben Ainslie, with three golds in three Games, is just as intense as Hoy even if he does not share the same muscle definition. He will head for the waters of Weymouth Bay in 2012 and says: "Local knowledge helps but it is certain to be a tough competition. But the view there is awesome."
Vicky Pendleton, another gold medal cyclist, laughed: "I needed to win a gold medal to fit in with the team! But when I was on the podium I thought 'This is it, this is what I wanted.' She laughed again when she was asked if she would like to be a model — "I'd love to put a frock on," she said, "have a bit of airbrushing, I'm a girl at the end of the day."
If British medal aspirations are similar to Beijing 2008, everything else will be so different. Largely Beijing was staged within its secure Olympic Green, everything purpose built and new, and the same tenets applied to most of the
competition sites from the cycle races in and around the stunning setting of the Great Wall of China to the sailing complex at Qiandou. London will not attempt to match such newness but so many of the world's athletes are already looking forward to performing in London's inconic settings.
"London will stage a boutique Games," said one observer.
And British team chef de mission Simon Clegg stressed: "We will never again have this opportunity in our lifetimes."
Research in Beijing suggested that the English speaking nations are going to be more than comfortable in London. There are strong suggestions too that France will benefit from having such good train links with London — and with the support of the growing French population in London.
In British media terms in Beijing there were 240 accredited written media and photographers. The UK contingent writers faced a double day of commitment, first the Chinese time zone, secondly the European day which stretched long through the Chinese night. The big medal haul meant greater interest, great demands for words and pictures, greater demands on physical stamina and mental concentration.
I have been at nine summer Games and Beijing was the toughest for the UK media,no argument. It was hot, humid or stormy for the duration.
What I failed to factor in to my thinking was the demands of websites which, largely, never subside. This will be a continuing growth area and it would be easy to say that you just throw more journalists andphotographers into the fray. But the logistics of work spaces alonedoes not encourage that. The American writers were in a demanding time zone-difference, with the West Coast 15 hours behind Beijing, so many of their accredited people were on extremely lengthy days. I overheard one of them saying: "If I had know more about the requirements of the internet, I wouldn't have come."
I spent 22 days in the Main Press Center — "It's bit like a cross-Channel ferry", observed of our number – and know that its operation was mirrored in a lesser way across all competition sites. Desk space, internet access, technical support, information flow and transportation were up to requirements, always accompanied by big smiles from the volunteers.
Rate card charges applied to internet access and telephones, running up some hefty bills. Media coming to London are expecting an expensive city and there should be serious investigation into whether rate card charges can he reassessed to help.
19 GOLD, 13 SILVER, 15 BRONZE: BRITISH HEROES ALL
For the first time the British Olympic Association ran a news and information service on its website TeamGB.com.Three writers, Steve Ballinger, Tim Barnett, and Liz Birchall anchored the service along with Philip Wilkinson, of the BOA. All British performances were monitored and the better they did, the more the news team responded with quotes being obtained on site by BOA staff.
Other information was collated by the news team and rounded packages were on the website and sent out as emails as quickly as possible. As one who provided some reportage and used much of it, the website was a major step forward.
On-site competition photographs added to the depth of coverage and once again the UK snappers demonstrated their skill and adaptability in what amounts to an initiative test every few seconds. On closing ceremony night some of them who were on the stadium floor had to dress from top to toe in black so they might not be noticed. Nobody made the same demand of the roving TV cameramen.
The Sports Journalists' Association website ran a daily blog under my name and the operation was managed from London by our secretary Steve Downes, who made no apparent attempt to sleep for three weeks and kept the site extremely active and newsworthy.
We did try to concentrate on what was happening to the Games and to our media and I would like to thank many colleagues who helped us with their input. My thanks, too, to SJA committee member Philip Barker who is a sharp man to have around when Olympic history needs checking or verifying. He will be even more valuable in 2012.
As for 2012, I have thought for many years at other Olympic Games that Britain has all the essentials to host one. Since July 2005 we have known that the 2012 Games are coming and the pace will quicken from now on, as Seb Coe and his team know only too well.
"You only get one opportunity to watch the working model close up as a future host city and we have grabbed the opportunity with both hands," said Coe as he watched every development in Beijing.
As London is host city in 2012, the IOC will increase media accreditation considerably in the hope that a much broader spread of interest can be created across the United Kingdom. The Sports Journalists' Association will do all within its capabilities to assist.
More Beijing perspectives
Click to read the views of leading journalists
---
Join the SJA today – click here for details and membership application form
---