SJA member DAI LLEWELLYN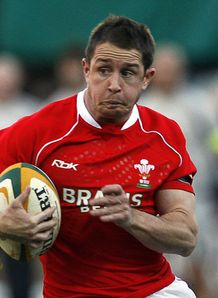 won a magnificent prize in a draw held at our recent lunch with Rob Howley. How would he cope with a day's hospitality at the Wales v England Six Nations' international, on his birthday, all generously courtesy of the Welsh RU?
They have always been easy targets for we journalists. For a start, their backs are invariably turned towards the action in the middle, be it football, rugby or cricket. They always get the few car park spaces available. They get to see the players long before
they are herded down to the "media" room. They are wined and dined on the best there is around. And the impression is
that most guests in corporate hospitality are not even fans.
"I thought they always had nets on the goals," is an observation once heard emanating from a hospitality balcony at a prominent rugby ground. And another, "Oh, what's happened to the ball? Is it punctured?" overheard at Twickenham on another occasion.

One thing was for sure, you would never find an honest to goodness, red-blooded reporter nudging beer bellies with the corpulent corporates. No way.
Well, not unless your name is Welsh, is drawn out of a hat for a prize of two tickets to the Welsh Rugby Union's hospitality suite at the Millennium Stadium for Wales versus England. Suddenly, one finds oneself practising tying up a tie, polishing shoes, digging out half-decent trousers and wondering if Catherine Jenkins will pop in for a chat during the match.
My wife Hilary and I have Wales backs coach Rob Howley to thank for the prize, worth a conservative £1,000 before kick-off, but revalued by self as being at least 1,000 times more once an edgy victory had been achieved by a XV of Wales and that marvellous, eagle-eyed referee Mr Jonathan Kaplan.
The Millennium Suite was opened to its guests, around 250 of us, at 2.30pm on St Valentine's Day – by sheer coincidence my umpty-umpteenth birthday – and while it is true we did have to queue and shuffle forward like prisoners in the Shawshank Redemption in order to gain access to the hallowed ground, the line moved with the sort of indecent haste that every reporter craves when doing similar (queuing just around the corner from the VIP entrance) in order to gain access to the media facilities.
We were greeted warmly, divested of our coats, had a glass of extremely palatable champers thrust into our hands then drifted into the room, which overlooks the River Taff. In fact you can almost see the spot where Gareth Edwards, Barry John and Mervyn Davies ran across the muddy waters one night many years ago.
Gareth, always light on his feet, appeared to Mervyn to be running on the surface. So too did Barry. Unfortunately when Merv responded to the other two's invitation to follow them over, he went straight in up to his thighs, but still managed to wade across.

"Didn't you tell him about the stepping stones?" asked Barry of Gareth.

"What stepping stones?" asked a puzzled Gareth.
We were on a table of 10 with a mix of supporters, English and Welsh, plus a knowledgeable French woman who followed the France-Scotland match throughout our meal on the flat screen TV just beyond our table.
The food was exquisite. A seafood terrine accompanied by a number of chilled glasses of an indecently acceptable Australian Sauvignon blanc; the main was described as roast beef, but in fact it was better than that. Perfectly Apple iPod insert
cooked, on the rare side of medium, and a lot of it, crisp vegetables and fondant potatoes. English mustard and horseradish was available in plentiful supply and there was a red wine, from the same premier Australian stable to wash it down.
The present Mrs Llewellyn was then able to indulge herself in a chocolate dessert that her husband was eventually tempted to try – just a mouthful, until there was no more left on his plate either.
Then it was out to the cloakroom before tripping down a level and filing out to our seats. Even in the midst of the corporate hospitality mob I still got a view of their backs, but that was because we were all facing front, watching a thrilling and absorbing
match unfold. There was even a scuffle between two old corporates, although by the end they were bosom buddies.
We could have stayed on to enjoy further sips of this or that alcoholic beverage, but frankly enough was enough. The secret to this particular journalist's anorexic frame is the fact that he knows when to call it a day. But what a day.
Thank you Rob. Thank you WRU. Thank you SJA chairman Barry Newcombe for inviting me along to that excellent lunch at the Old Bank of England. What a pity, Barry that your name was not the one drawn out. Never mind, maybe next year.
---
Join the SJA today – click here for details and membership application form
---