Another big-city newspaper with a proud tradition has effectively been closed. According to former Birmingham Post sports writer RANDALL NORTHAM, management carries much of the responsibility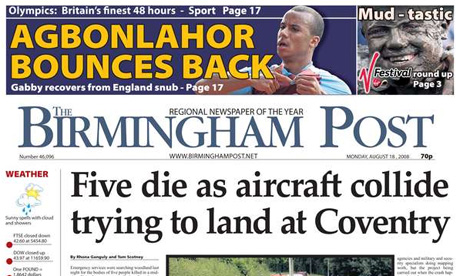 The Birmingham Post has been dying for years. It was dying when I worked there and that was more than 30 years ago. But now it's dead.

It's demise was announced today by owners Trinity Mirror, with major changes also made to the Birmingham Mail, including both Editors leaving, apparently neither impressed with management's plans, as reported by Roy Greenslade. The Post will become a weekly, a 96-page tabloid, coming out on Thursdays.
When I joined in 1969, it was a vibrant morning paper with sport a vital part. When I left the sports desk in 1976, it had realised, like all papers have, that you can save money by cutting staff and that advertising will not go down pro rata. Well, it's gone down absolutely now.
When I was there, we had a sports desk with a sports editor, deputy, chief sub, three or four sub-editors, two football reporters, a golf correspondent and a rugby correspondent. There were some very talented people among them.
I served under one very good sports editor and one very bad. When I arrived, the chief football writer was Colin Malam, who went to the Sunday Telegraph. The golf writer was Dai Davies who grumbled on the Guardian for years. Others I worked with included John Wragg, a leading light at the Daily Express, Dave Harrison, who has just retired from the News of the World, and Keir Radnedge, who went to the Daily Mail.
I always like to think, although I'm probably wrong, that the circulation was more than
100,000 a day when I joined. I know it was around 44,000 when I left. That's an incredible drop in seven years and was the result of all sorts of management failures.
They brought in new technology and our deadlines got worse. They locked us out for nine weeks — I have a fading photo from the front of Socialist Worker when we marched to court in support of some of our pickets who had been arrested, including Vic Wakeling, the recently retired head of news and sport at Sky.
The atmosphere was soured when we went back.
It's a very sad day, but I was on a plane going to Frankfurt last week and I picked up a copy. I mentioned it to the man next to me. "I saw that, but I didn't pick it up because it looked rubbish."
He was right.
---
Click here for more recent articles on journalism, sport and sports journalism
---
Book tickets for the glittering SJA 61st annual British Sports Awards, being staged in London on December 9 – click here for details and booking form
---