We have all received them, though they may seem as rare as unicorns – the useful sports press release. Too often, the latest product from a PR's desk is fit only for the wastebin. JOE FAVORITO, a New York-based sports publicity specialist who has worked for the US Tennis Association and the NY Knicks basketball franchise, is trying to change all that
Two years ago, after I left my position as head of public relations for the New York Knicks of the NBA, I was approached by my colleague and longtime friend John Genzale to create a "primer" of best practices in a textbook for the sports publicity industry.
It was to be the first of a series of texts by the publisher Reed Elsevier on the sports industry, and John felt I had both the time and the background (over 20 years of industry experience in the NBA, the USTA, the WTA, college, minor sports and television) to pull together the first-ever comprehensive text on sports publicity from all aspects.
The book, Sports Publicity: A Practical Perspective, was completed and published last August, and is among the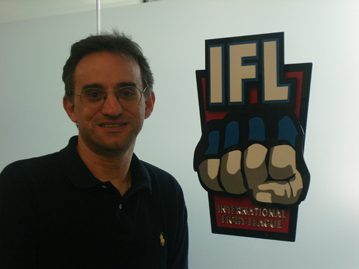 best selling textbooks for industry thus far this year. It is being used by no less than 25 universities in the United States this semester, ranging from the University of Southern California to New York University. It has also been adopted by many professionals in the field as a primer for workers new to the business of sports marketing, as well as by a list of journalists looking for a little more insight into the business side of the industry.
As with any text in today's 24/7 world, there is a constant need for updating, as new ideas come about, new practices are accepted as the norm and great work arises in this fast growing environment. Therefore, we launched a website in November as a companion piece for the book. Sports Marketing and PR Roundup at the site joefavorito.com, is a repository of best practices, good journalism, and unique ideas that the industry could share. Thus far, the site has been very well trafficked and accepted, with items ranging from soccer to NASCAR to minor league and collegiate sports.
The site is not meant to be snarky commentary.
Rather, it is to be a useful compilation of good ideas that
can be shared by this growing multi-billion dollar industry. However, as I have learned in some of my professional stops, taking a totally "American" attitude to business…that loud and over the top is always best…does not always work.
Understanding the cultures and traditions of sport, be it Indian cricket, Formula 1, the Premier League, or South African rugby, is very important as one tries to apply best practice in the business of sport on a global scale. Conversely, multinational companies and sports brands looking to expand into the west are also searching for the link to make themselves relevant with the high dollar spend that the North American consumer will put against a sports brand or event.
Now we have been successful identifying western trends in sport business, and are now seeking to identify best practices…good ideas that draw fans, grow business partnerships, increase grassroots participation, create new media opportunities and promote athletes, clubs and the media…from around the world.
Those best practices can be documented in case studies, created by students or sports and media agencies or covered in the media. We would be very keen to get input on what those ideas can and should be, so we can continue to find ways to assist those in growing the business of sport worldwide.
Again the site url is joefavorito.com, and we can be reached at jf@ifl.tv with thoughts and ideas worth using.
---
Book your ticket for the 2007 SJA British Sports Journalism Awards – click here for details, including the members' price discount
---