IAN COLE's round-up of sports and media quotes leads with The Open victory by Darren Clarke, but also takes in Mark Cavendish's stage-winning exploits at the Tour de France, English rugby's black shirts, Amir Khan's next title fight and why press regulation is a bad idea
"In terms of what's going through my heart, there's obviously somebody who is watching down from up above and I know she'd be very proud of me" Darren Clarke wins The Open at the 20th attempt and makes an emotional reference to his late wife Heather, who died from breast cancer five years ago.
"He lost five years of his career because of what happened with Heather. But Rory has been great for him. They feed off one another. He played with Rory in practice and realised his game was up to it. This makes his career" Chubby Chandler, who now manages three current major winners, including US Open champion Rory McIlroy, on Clarke's achievement.
"I'm looking forward to getting back to America and some nice conditions. There's no point changing your game for one week a year" Rory McIlroy, pre-tournament favourite, was blown away in the wind and rain at Sandwich.
"Darren Clarke aims to be the first Northern Irish golfer to win a major in almost four weeks" Graeme McDowell Tweets before Clarke sets out on his final round.
"When you see the kids today and the speed they hit the ball with their driver, it's just a different sound. They go 'whoosh'. That's the difference. Mine's a thud. But the thud works every time" Tom Watson, five–time Open winner, still high on the leader board at Sandwich, aged 61.
"I enjoy playing here, whether I play well or not. It's a fun challenge in this kind of wind. It was interesting to see a drive go 380 yards on 17 and a drive on 11 go 210 yards" Phil Mickelson smiled throughout a four-day battle with the elements to finish joint second.
"I hit it sideways on the front nine and you can't make scores from where I put it. I'm going to hit a few balls, have a Chinese and a drink at the pub down the road. I'm a club pro and what matters to me is teaching. Now I can go back to the Cumbria county squad and tell them how not to do it" Simon Edwards, propping up the field after a first round 82.
"My credentials say 'not admitted to the course'. Talk about kicking a man in the teeth." Colin Montgomerie, immediate past Ryder Cup captain, after not qualifying for the Open for the first time in 22 years, at a Golf Foundation event.
"Nothing is in the bag. A lot can still happen" Mark Cavendish after his 19th career stage win in the Tour de France on Sunday had given him the advantage in the Green Jersey points competition, and more career stage wins than Belgian cycling legend Eddie Merckx.
"Given the uselessness of the Press Complaints Commission throughout, this affair will only encourage demands for regulatory oversight of the press. This would probably do more harm than good. Britain already has the toughest libel laws in the world, which have been misused repeatedly to protect the rich and the powerful; and giving the state power to regulate the press is a dangerous temptation to governments" Leader in The Economist, in an issue dominated by the News International phone hacking scandal and the pressures on Rupert Murdoch's media empire.
"Twitter confirmed that the dramatic end to the women's final, as Japan equalised with three minutes of extra-time remaining and went on to win on penalties, produced a record 7,196 tweets per second" Newspaper report yesterday about the media impact of the Women's World Cup final between Japan and the United States. The match went unreported by the BBC's main evening news bulletin on Sunday – little more than a week after the BBC had been forced to show England's quarter-final on BBC2, where it was watched by 3 million viewers.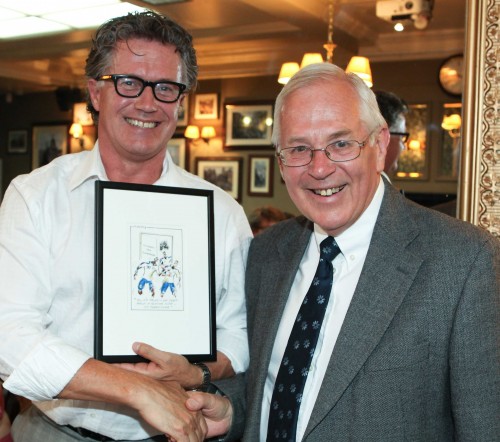 "After a marathon stint speaking to the ladies and gentlemen of the Sports Journalists' Association in the function room of a Fleet Street pub yesterday, Charles Van Commenee was presented with a cartoon depicting a bunch of athletes departing from his office. 'So it's true – he does have a softer side… it's terrifying,' the caption read. Van Commenee laughed heartily" Simon Turnbull writing in The Independent on the SJA lunch staged last week, where our regular cartoonist Kevin Macey provided the tradition memento of the occasion as thanks to our guest.
"If I'd known there was a prize I'd have gone for it. 5,000 euro? You can buy a lot of beers with that" Geraint Thomas, British Tour de France rider, is pipped at the summit of Col du Tourmalet as France's Jeremy Roy takes the money.
"I don't expect we will get our £25,000 back or any form of apology but I'm glad to see common sense has prevailed" Matt Williams, Blackpool FC secretary, on hearing the Premier League has revised rules about "weakened teams".
"David sold the fight well and it made him a lot of money but all that stuff reminded me never to do that. I respect my opponents and I don't want to put that kind of pressure on myself" Amir Khan, preparing to defend his world light-welterweight title against Zab Judah, won't go down the same pre-fight routine as David Haye.
"Has there ever been a marketing exercise quite as crass as this? If it was intended to annoy the hosts, who are clearly the team to beat on home soil, then it is hopelessly ineffectual… If English rugby wishes to tick off the Kiwis, try beating them, as Sir Clive Woodward's team did in Wellington, the summer before the 2003 World Cup. They hated that. Nicking their colours is just seen as ill-mannered and boorish and further evidence of an ill-founded superiority complex, patronising the former colonies" Martin Samuel, the SJA Sports Writer of the Year, rails against another ill-considered RFU decision, to have England wear all black as their change strip for the forthcoming Rugby World Cup.
"Of all the colours of the rainbow, why would they choose the colour of the host nation? They are thumbing their noses at a New Zealand tradition" Keith Quinn, New Zealand rugby commentator, on England's decision to have an all-black change strip at the World Cup.
"They call me 'Baby Daley' in China and I get mobbed on competition days by Chinese fans. Sometimes they get me mixed up with Chris Mears. They think we British all look the same. Chris has a great signature he does for me" Tom Daley at the world swimming and diving championships.
---
UPCOMING SJA DATES
Thu Aug 18: Lunch with Sir Clive Woodward, performance director of the BOA, on plans for the 2012 Olympics with just one year until the London Games.  For booking details click here.

Mon Sep 12: SJA Autumn Golf Day, Muswell Hill GC. Click here for more details and to book yourself in for the day.
Wed Dec 7: SJA 2011 British Sports Awards – Booking now open. For more details, click here.
All details subject to alteration. Keep checking sportsjournalists.co.uk for updates